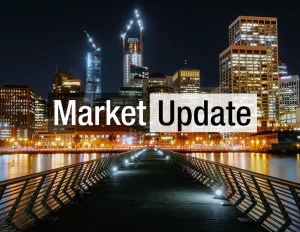 In September, Manhattan's office vacancy remained flat month-over-month, clocking in at 10.8 percent, but exceeding the national average of 15.4 percent, according to CommercialEdge. On a year-over-year basis, the borough's vacancy was up 200 basis points.
Manhattan's vacancy rate continues to outperform all other gateway markets, but is one of the three primary markets that didn't follow the overall national trend of falling vacancy: month-over-month, the U.S. rate fell 50 basis points. Chicago (16.9 percent) and Manhattan didn't register changes in vacancies, while Boston was the only gateway city to see its rate increase by 10 basis points, to reach 11.7 percent. Washington, D.C. shed an impressive 110 basis points during September, to reach 14.7 percent by the end of the month.
Also in September, Paramount Group Inc. announced two leases totaling 279,000 square feet at its 1301 Avenue of the Americas tower in the Plaza District. Credit Agricole CIB, a global corporate and investment bank which has been a tenant for years at the location, signed a new, 167,000-square-foot agreement. The second deal was a 112,000-square-foot renewal and expansion with investment bank SVB Leerink.
The Plaza District (11.1 percent) has a slightly larger vacancy rate than the borough's average and recorded a 10-basis-point drop month-over-month through September. Soho's vacancy was up 40 basis points, to reach 17.5 percent, but continues to be the submarket with the largest rate in Manhattan. On the opposite side of the spectrum, Hudson Square's vacancy has dropped 50 basis points month-over-month to reach 5.2 percent, the lowest rate in the borough. Other low-vacancy submarkets include East River (7.2 percent), Tribeca (7.5 percent) and World Trade Center (8.2 percent).
CommercialEdge covers 8M+ property records in the United States. View the latest CommercialEdge national monthly office report here.