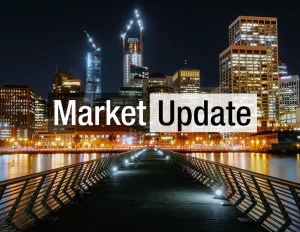 As of August, Manhattan's office vacancy rate dipped to 10.8 percent, a 10-basis-point fall compared to July's findings, according to CommercialEdge data. Year-over-year, the metro's vacancy increased by 240 basis points, but was still the lowest among gateway markets.
In August Manhattan's vacancy rate remained well behind the national average of 15.4 percent. The metro saw similar movement to markets like Seattle (15.7 percent), Boston (11.6 percent) and Washington D.C. (15.8), all of which lowered their vacancy rate by 10 basis points throughout August. Among gateway markets, Los Angeles' rate inflated the most month-over-month—40 basis points to reach 13.5 percent—followed by Chicago (16.9 percent) and San Francisco (15.4 percent).
In August, the Rudin Family completed two new leases totaling 72,000 square feet at 32 Avenue of the Americas, a 27-story landmark tower in Tribeca. Health-care company Cedar and investment firm Dorilton Capital signed new commitments at the 1.2 million square-foot tower. Dorilton expanded its presence by 5,148 square feet, bringing its total footprint to 38,646 square feet at the property.
Tribeca is one of the most popular submarkets in Manhattan, bearing the second lowest vacancy in the metro. Month-over-month, the submarket's rate decreased by 50 basis points, reaching 6.9 percent in August. Hudson Square lead the list of lowest vacancies, with 5.7 percent, followed by East River (7.2 percent), World Trade Center (8.3 percent) and Chelsea (8.3 percent).
In mid-August, Fertility tech company TMRW Life Sciences signed a 12-year lease to expand its corporate headquarters at 250 Hudson Street in Hudson Square. The tenant gradually increased its presence at the 15-story Class A building since its initial commitment more than two years ago. Owner Jack Resnick & Sons purchased the 394,424-square-foot property in the sixties.
In July, Soho had the highest vacancy rate in the borough, which increased in August to 17.1 percent. The Financial District (12.4 percent), Gramercy Park (11.2 percent) and the Plaza District (11.2 percent) also reached high vacancies.
CommercialEdge covers 8M+ property records in the United States. View the latest CommercialEdge national monthly office report here.