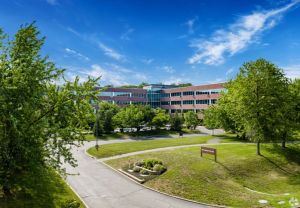 Nuveen Real Estate has begun renovation work at its two-building office complex in Princeton, N.J. The Ware Malcomb-designed overhaul, which will focus on green spaces and lifestyle amenities, has an estimated completion by Labor Day.
---
READ ALSO: Office Tenants Embrace Hybrid Work Era
---
Ines Olesen, director of New York Investments at Nuveen, said in prepared remarks that the renovations at Princeton Point were tailored to reinvigorate office life. Upgrades call for more outdoor facilities including patios and walking trails, as well as more on-site amenities like cafes and refurbished lobbies that feature green walls and natural light. The renovations will add to Princeton Point's current list of amenities including a town-hall style conference center, 60-foot glass atrium, courtyard seating and private patio.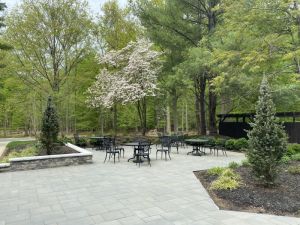 Nuveen is also working on a mobile app for tenants that allows direct communication with the property manager, SJP. The app, which will be introduced in September, will include access to building directories, maintenance requests and building notifications. The app will also offer discounts at local stores and restaurants and let tenants order food delivery from each of Princeton Point's on-site cafes.
Part of Princeton mixed-use complex
Nuveen acquired the 440,000-square-foot two-building office complex in 2016, when it was formerly known as 600 and 650 College Road. In June 2020, Cushman & Wakefield arranged a 11,200-square-foot lease at 650 College Road between United Silicon Carbide and Nuveen. Now, the office complex includes tenants like State Street Bank, BT Americas, RCN/Patriot Media, Saul Ewing Arnstein & Lehr, Axens NA, Coface and Hamilton & Co.
Princeton Point is also part of the larger Princeton Forrestal Center, the corporate office and research complex of Princeton University. The 2,200-acre development offers 8 million square feet for a variety of uses including academic, research, office, residential, hotel, conference center, retail and open space amenities.