October 21, 2011
By Barbra Murray, Contributing Editor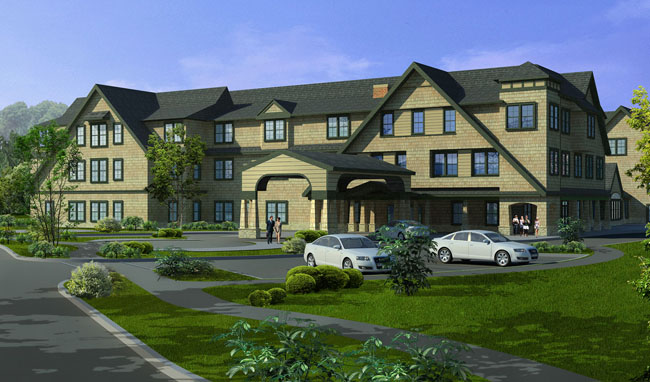 The aging baby boomer population in Massachusetts is calling and The Northbridge Cos. is listening. The seniors housing developer and operator recently broke ground on Stonebridge at Burlington, a 110-unit assisted living and memory care community on nine acres in Burlington, Mass., approximately 20 miles north of Boston.
Despite the fact that lenders tighter with purse strings than they were five years ago, certain real estate projects still turn heads and the Stonebridge development attracted the financial backing of Cambridge Savings Bank and Fidelity RE Opportunistic Income Fund L.P. Stonebridge appears to be the right project, in the right place at the right time.
Catering to the progressive nature of modern-day seniors, Stonebridge will be, as Northbridge explains it, a "cutting edge" assisted living community, starting with its location. Carrying the address of 50 Network Dr., the facility will sit within Northwest Park, a 285-acre mixed-use redevelopment endeavor being undertaken by Nordblom Co. Additionally, Stonebridge's amenities place it well outside of the traditional seniors housing category.
A good location plus bells and whistles does not necessarily equal a successful assisted living facility, not today, at least. The current economic climate does not support the "if you build it, they will come" concept. However, a good location plus bells and whistles combined with increasing demand can amount to a good risk. According to statistics from the National Investment Center for the Seniors Housing & Care Industry, the average occupancy rate for assisted living communities in metropolitan Boston reached 92.4 percent at mid-year, far outpacing the national average of 88.5 percent. And Miami may be the hot spot for seniors in terms of literal heat but in general, statistics place Boston in better standing. As per a report by the Center for a Secure Retirement and Bankers Life and Casualty Co., number two on the list of the best U.S. cities for seniors is Boston, a town long on history and made all the more desirable by "the large number of medical and research facilities affiliated with the city's many colleges and universities."
Callahan Construction is acting as general contractor for Stonebridge, which is on track to reach completion in fall 2012.