March 7, 2012
By Nicholas Ziegler, News Editor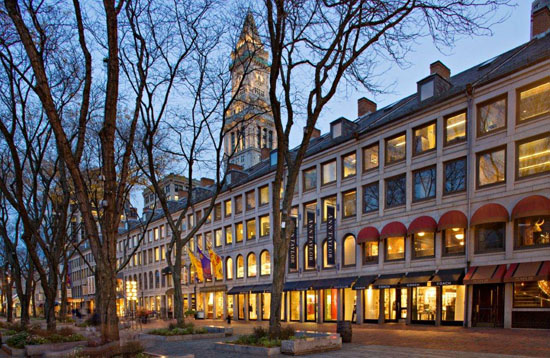 Ashkenazy Acquisition Corp., the manager of Boston's Faneuil Hall Marketplace, has awarded Newmark Knight Frank the contract for office-positioning and leasing responsibilities for the city landmark.
"The marketplace is considered one of the most successful examples of urban revitalization in the country," Jim Griffin, one of NKF's senior managing directors overseeing the assignment, said.  "Under the stewardship of Ashkenazy Acquisitions, it is poised to expand and improve on its status as one of Boston's most iconic landmarks."
Faneuil Hall spans 6.5 acres near Boston's financial district and the North End and includes 155,000 square feet of office space among its total 350,000 square feet. The property has three buildings surrounding a cobblestone promenade with the remaining square footage dedicated to retail and restaurants.
Ashkenazy took a 63-year ground lease for property in fall 2011, but Faneuil Hall remains owned by the city of Boston. According to a report by The Boston Globe, the city had a troubled relationship with the site's previous manager, General Growth Properties — the city alleged that needed upgrades were not being completed and that small businesses were forced out due to high rents.
The property, which has been used as a meeting hall and marketplace since its 18th century construction, is now part of Boston National Historical Park and a well-known stop on the Freedom Trail. On October 9, 1960, the building was designated a National Historic Landmark and was later added to the National Register of Historic Places. The ground floor and basement were altered in 1979, and the hall was restored again in 1992.
The Boston retail market is expected to do well in 2012. Year-end 2011 absorption reached a positive 885,000 square feet, and vacancy rates declined 0.9 percent to 4.4 percent, according to a fourth-quarter 2011 report by services firm Cushman & Wakefield Inc.
New York-based Ashkenazy also oversees several other high-profile centers, including Union Station in Washington, D.C., and the Rivercenter Mall in San Antonio.