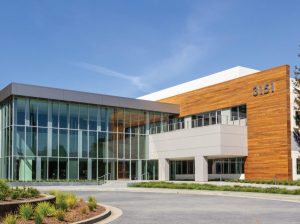 NIO USA Inc. is set to relocate its U.S. headquarters at 3100-3200 N. First St. in San Jose, Calif., to a nearby building. Oakmont Corp. has signed the electric vehicle manufacturing company to a full-building lease at Broadcom Building, a 201,500-square-foot, mixed-use property at 3151 Zanker Road.
NIO plans to use the office and R&D facility as a Research and Innovation Center that will support an array of functions over the 10-year term of the contract.
Colliers represented both parties during the lease negotiations. The team working on behalf of the landlord included Colliers Executive Vice Presidents Michael Rosendin and Craig Fordyce, Vice President Shane Minnis and Associate Vice President Ryan Ward. Meanwhile, Colliers Senior Vice President Sean Toomey, Executive Vice Presidents Jere Hench and John McMahon, along with Senior Associate Sean McMahon, represented NIO.
Broadcom Building is easily accessible from Interstate 880. The property is within walking distance of several public transit options, with Downtown San Jose less than 7 miles southeast.
A recently renovated facility
Located on a 12-acre site, the two-story Broadcom Building was developed in 1990, but underwent extensive interior and exterior renovations last year. The rehabilitation work included a new two-story lobby, expanding the on-site cafe with an adjacent outdoor deck, adding exterior balconies to the last floor and new landscaping and signage, among others.
The office building features a fitness center and an indoor racquetball court, while outdoor amenities include full-sized basketball and tennis courts, beach volleyball court, half basketball court as well as an amphitheater.
The property last traded in late 2014, when the current owner paid $55 million for the low-rise office building, CommercialEdge data shows. Wells Fargo Bank provided a 10-year, $35.8 million loan CMBS loan for the acquisition.
The Tesla competitor will be joining notable tenants such as Broadcom, Intel, Google, PayPal and Taiwan Semiconductor Manufacturing Co., which also have offices in the area. The Taiwanese chipmaking giant is also present in Arizona, where it is investing $12 billion in manufacturing facilities.