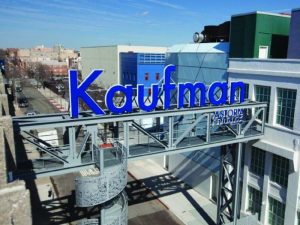 One of New York City's iconic film studios has a new owner. Kaufman Astoria Studios, a sprawling campus in Queens where countless films and television shows have filmed for more than 100 years, has been acquired by a partnership of Hackman Capital Partners and Square Mile Capital Management.
The two companies purchased the asset through an affiliated entity and did not disclose the purchase price. The Jeffries Group represented Kaufman Astoria in the deal.
Originally the home of Paramount Pictures, Kaufman Astoria currently has more than 500,000 square feet of production space at its location on 36th Street in the heart of Astoria, Queens. The property, which first opened in 1920, also includes 11 sound stages that total more than 147,000 square feet and more than 325,000 square feet of production office and support space.
---
READ ALSO: What's Driving Manhattan Construction
---
Kaufman Astoria Studios President & CEO Hal Rosenbluth said in prepared remarks that working with the new ownership to further grow the studios is the "perfect fit."
The Hackman/Square Mile venture first teamed up in September of last year to begin acquiring production facilities in New York, buying Silvercup Studios in Long Island City and the Bronx. Along with Silvercup and Kaufman Astoria Studios, the partnership owns several other studio properties in California, Dublin, Ireland and London.
As the demand continues to grow for studio and production facilities, the Hackman/Square Mile venture will look to add more studio properties to its portfolio, Square Mile Capital CEO Craig Solomon said in prepared remarks.
A joint venture of Kaufman Astoria Studios, Silverstein Properties and BedRock Real Estate Partners is hoping to build Innovation QNS, a proposed $2 billion mixed-use development that would rise close to Kaufman Astoria Studios in Queens. Plans for the project, which would be part of the Kaufman Arts District, call for 2.7 million square feet of space. The development is still in the City's public review process.