By Laura Calugar
Ally Financial Inc. and Crescent Communities entered into a lease agreement for a new office building that will be constructed in Charlotte, N.C. Named Ally Charlotte Center, the building will house Ally's new corporate center and will bring all its employees in the city under one roof. Ally Charlotte Center will have 26 stories, 742,000 square feet of office space, 30,000 square feet of ground-floor retail and restaurant space, 20,000 square feet of open plaza space and a 300-key hotel. Ally Financial will be the anchor tenant of the building, occupying 400,000 square feet of office space.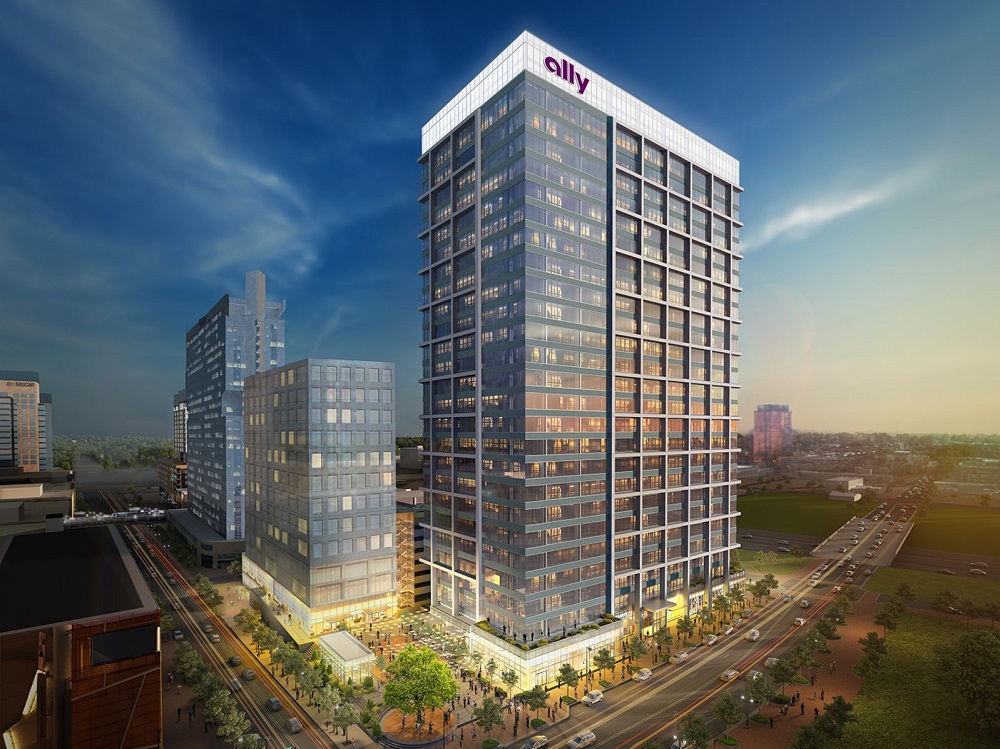 Located at 601 S. Tryon St., at the former site of a Goodyear auto shop, the mixed-use tower will be centrally situated uptown. Ally Charlotte Center will provide convenient access to Interstate 277 as well as the Stonewall Station stop on the LYNX light rail system. According to the Charlotte Business Journal, the site where Ally Charlotte Center will soon rise has been marketed as Tryon Place since it was first announced four years ago.  
Long-term strategy
Ally's move to secure new office space in Charlotte is part of the company's strategy to acquire long-term real estate in its largest regions. The company made a similar move in April 2016 when it united 1,500 southeast Michigan-based employees to Ally Detroit Center in downtown Detroit.
Construction is scheduled to begin in the first quarter of 2018, with completion expected in 2021. Ally currently has about 1,300 full-time employees and 400 contract employees in three different office locations in Uptown, Ballantyne and SouthPark. "We are excited for construction to begin on Ally Charlotte Center and to be securing long term real estate in this city that supports all of our local associates and can accommodate future growth plans," said Ally Financial CEO Jeffrey Brown, in prepared remarks.
Locally-based Crescent Communities will be the owner and developer of the new building, which joins many other real estate projects on Stonewall Street. More than $2 billion in development is underway here, including Lincoln Harris' 850,000-square-foot office tower, which will be anchored by Bank of America. The Stonewall Corridor recently experienced rapid growth, with many new residential and commercial projects including Crescent's Stonewall Station mixed-use development that will deliver Uptown Charlotte's first Whole Foods Market in 2018.
Chase Monroe and Chris Schaaf with JLL represented Ally, while Charley Leavitt and Barry Fabyan of JLL represented Crescent Communities in this lease agreement.
Image courtesy of Ally Financial