By Barbra Murray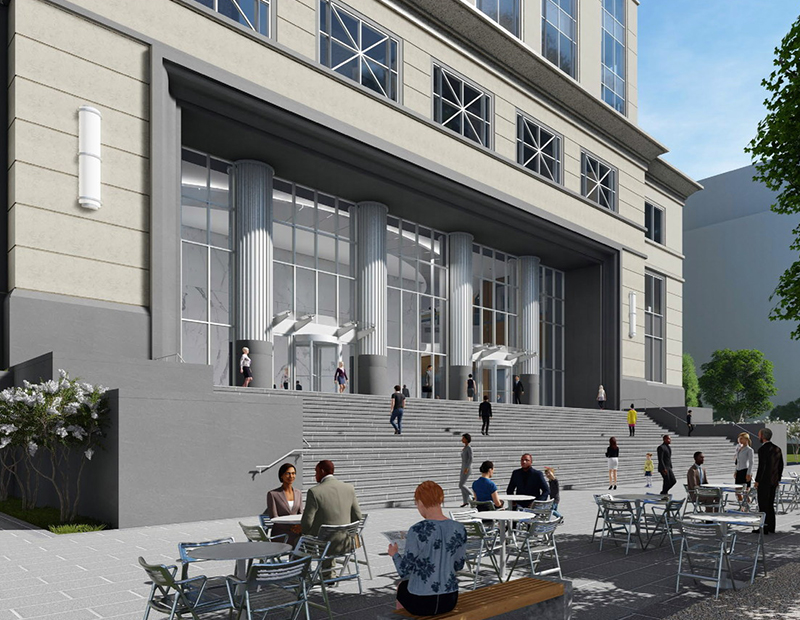 Lincoln Harris has revealed its plan for the former site of the Charlotte Observer in Charlotte, N.C., and it's a big deal—literally. The 10-acre property will become home to Legacy Union, a mixed-use destination that will hold the distinction of being one of the largest development projects to be erected in the central business district's Uptown neighborhood, the largest submarket of metropolitan Charlotte.
Carrying the address of 620 S. Tryon St., Legacy Union will come to life on two city blocks in a prime spot adjacent to Bank of America Stadium. "We're building something special that will transform the most prominent gateway into Uptown," Johno Harris, president of Lincoln Harris, said in a prepared statement.
Lincoln Harris will convert the site from office campus to a live-work-play locale featuring premier office space, retail offerings, residential units and hotel guestrooms. But first things first. The initial phase of the development will yield a 33-story office tower topped by a 100-foot glass-and-steel pyramid that will make a bold statement on the Charlotte skyline. And in one of the biggest lease transactions in Charlotte year-to-date, Lincoln Harris signed Bank of America to a 550,000-square-foot anchor position at the building during the second quarter, leaving the 850,000-square-foot tower 65 percent preleased.
Partnership Gilbane/Shelco is spearheading development of Legacy Union's office building. Lincoln Harris hasn't ironed out the details of the next phase, but additional development could get underway as early as the end of this year.
Full plate
Lincoln Harris is no stranger to major mixed-use developments and currently, the Charlotte-based commercial real estate company has its hands in more than a few pies. As part of a partnership with Greg Currie and the Rea Family, Lincoln Harris recently kicked off vertical construction on a master-planned community that will replace a former 190-acre golf course in south Charlotte. Additionally, the company announced that the master plan for River District, a 1,300-acre master-planned community to be co-developed in Charlotte with Crescent Communities, has been approved. And that was just April's news.
Construction of Legacy Union has already commenced, and the office building is on track to make its debut in the first quarter of 2019.