By Anca Gagiuc, Associate Editor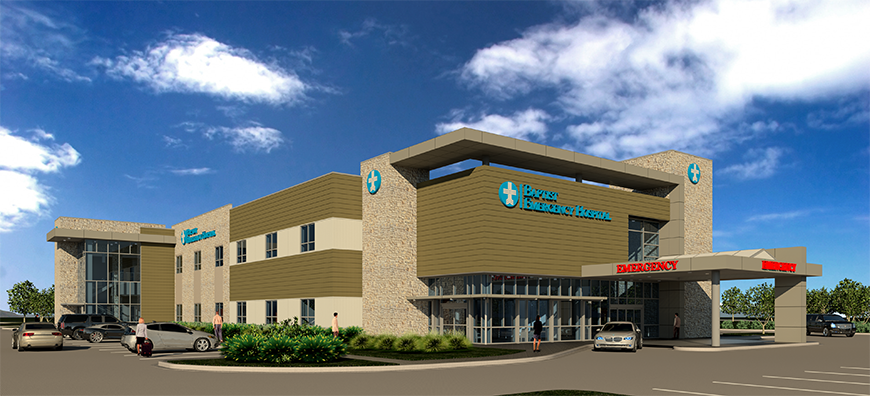 San Antonio—The newest Baptist Emergency Hospital serving the residents in the South San Antonio area, whose health care needs have been underserved for more than 30 years, will open in early November.
"This new micro-hospital will have an immediate positive impact on the community. We are proud to be offering specialized emergency medical care where the residents need it the most, close to home," David Mitchell, interim regional CEO for Baptist Emergency Hospital, said in a prepared statement.
The two-story facility, located at 7719 IH 35 South, encompasses 38,500 square feet and is being built through a partnership of San Antonio-based Baptist Health System and Emerus Hospitals. The new facility features a state-of-the-art emergency department, inpatient beds, advanced imaging center and an ambulatory service center.
"We are pleased to continue working with the Baptist Health System to improve access to medical care," added David Stillwell, COO of Emerus. "Not only are they a trusted name in the San Antonio region, together we can meet the medical needs of families in the Zarzamora area in the convenience of their own neighborhood. It's a way for us to deliver comprehensive and innovative, yet affordable, health care solutions.
F. A. Nunnelly of San Antonio developed the new facility. With the addition of Zarzamora, Baptist Emergency Hospital has six locations throughout San Antonio, including Hausman, Overlook, Thousand Oaks, Westover Hills, and Schertz. A seventh location, NW Military, will open soon at 4103 North Loop, 1604 West.
Image courtesy of Baptist Emergency Hospital