Debt-Laden $355M Trump Hollywood Has New Owner
First came the debut of the $355 million Trump Hollywood, then came foreclosure, and now new ownership--and it all happened within 15 months.
November 30, 2010
By Barbra Murray, Contributing Editor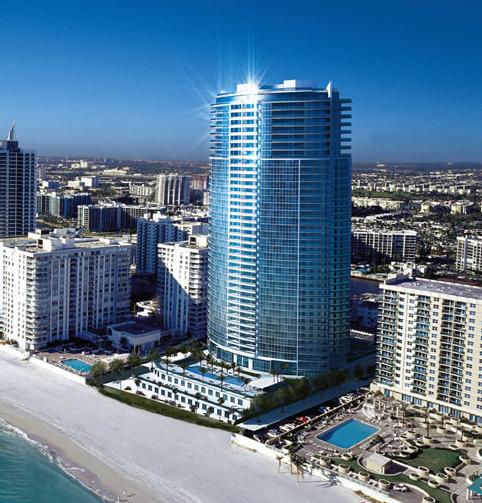 First came the debut of the $355 million Trump Hollywood, then came foreclosure, and now new ownership–and it all happened within 15 months. Developer BH III L.L.C. and a group of investment funds under the management of King Street Capital Management have closed on the acquisition of the über upscale waterfront condominium high-rise in Hollywood, Florida, debt and all.
The Related Group developed Trump Hollywood in a partnership and in 2009, opened the doors of the 41-story Robert Swedroe-designed building, which encompasses 220 residences and sits on five acres along Hollywood beach at 2711 South Ocean Drive. Before long, Related ran into financial troubles and lenders stepped in to foreclose on the property. Seeing great promise in Trump Hollywood, as well as the area condominium market, BH3 et al struck a deal. "We negotiated a fee interest with Related, and separate and apart from that, we acquired the mortgage from HSBC," Daniel Lebensohn, a partner with BH3, told CPE. "We control the debt and fee on the property."
Lebensohn would not confirm the size of the mortgage–rumored to be about $223 million–or the amount BH3 and partners actually paid for it–a rumored sum of approximately $160 million. However, he did concede that, "as is typical of distressed situations, there were favorable terms."
The national condominium market has hardly regained its footing, but BH3 is no newbie on the condominium scene, so there is a method to the seemingly apparent madness of acquiring such an extravagant property where only 22 of the 200 residences have been officially sold. "We have other projects on the beach and looking at empirical data based on those other properties, there is very strong demand for luxury product, particularly on the beach and there is not as much product as people think," Lebensohn said. "There is the perception that there are thousands of units of new inventory, but that is not the case on the beach and that is bolstering demand."
So, according to Lebensohn, there is indeed a market for oceanfront condominiums varying in size from nearly 2,100 square feet to over 7,000 square feet, and carrying price tags topping $7 million. "People recognize the devalued dollar and the opportunity of buying a residence in a market that would have previously sold for much, much more. The fact of the matter is inventory has been selling."
Related did not bid adieu to Trump Hollywood altogether. The company will spearhead sales for the tower and will work together with the new ownership on management responsibilities.