By Roxana Baiceanu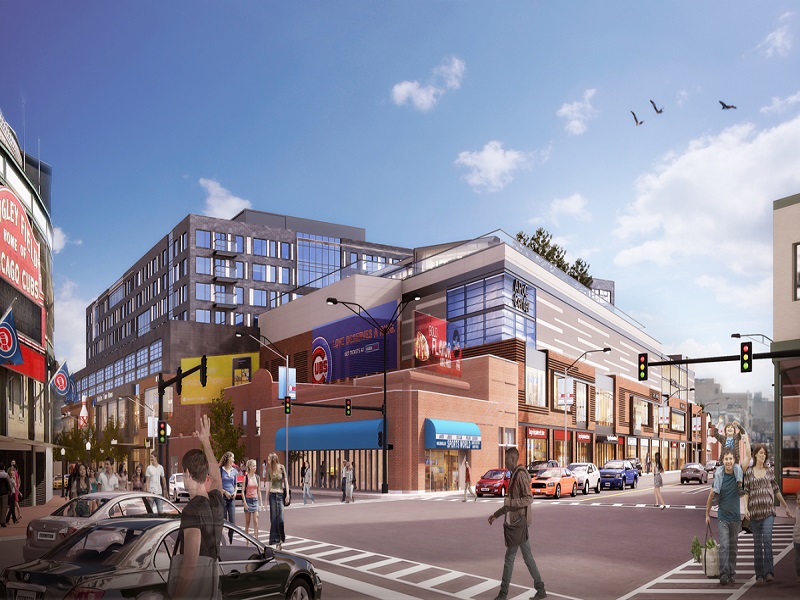 The Addison & Clark development coming to Chicago's Lakeview neighborhood welcomed Harley Davidson onto its tenant roster. The Fox Motors brand plans to use the 10,000 square feet to open a new showroom upon property completion in the summer of 2018.  
"We are excited about Fox's opportunity to expand within the Chicago urban market. The new Wrigleyville location along with our Chicago-area dealerships in Glenview (Chicago H-D), Libertyville (Lake Shore H-D) and the Lincoln Park-Bucktown area (Fox Ford Lincoln) will round out Fox's commitment to serve the city and the northern suburbs of Chicago," said Dan DeVos, Fox Motors' chairman & CEO, in prepared remarks.
An iconic store in an iconic location
The showroom will be located at the corner of Sheffield Avenue and Addison Street, next to Cubs' home, and will benefit from the neighborhood's young and dense population. Although small in size compared to other Harley-Davidson stores, the center will still feature oversized garage door entrances which will open to the street and a customized lounge. It will sell motorcycle parts and accessories as well as MotorClothes and will also offer light maintenance services.
Harley-Davidson will join other well-known Addison & Clark tenants such as CMX Cinemas, Lucky Strike, Shake Shack, Baseballism and two 7-Eleven stores. More than half of the retail space at the site has already been leased.
A mix of residential and retail opportunities
Addison & Clark is a joint venture mixed-use project signed by M & R Development and Bucksbaum Retail Properties. The development covers 2.3 acres and is expected to feature:
148 luxury apartments
150,000 square feet of retail space
a 5,700-square-foot indoor clubhouse
more than 8,700 square feet of outdoor space
a fourth-floor amenity deck with a pool and a lounge space
more than 400 public and reserved parking spaces
The development will also provide convenient access to public transportation, with the CTA's Addison Red Line stop being located nearby.  
"There are very few markets in the country that possess such a strong residential neighborhood and retail branding opportunity as Lakeview," said John Bucksbaum, CEO of Bucksbaum Retail Properties, in prepared remarks.
Rendering courtesy of Taylor Johnson