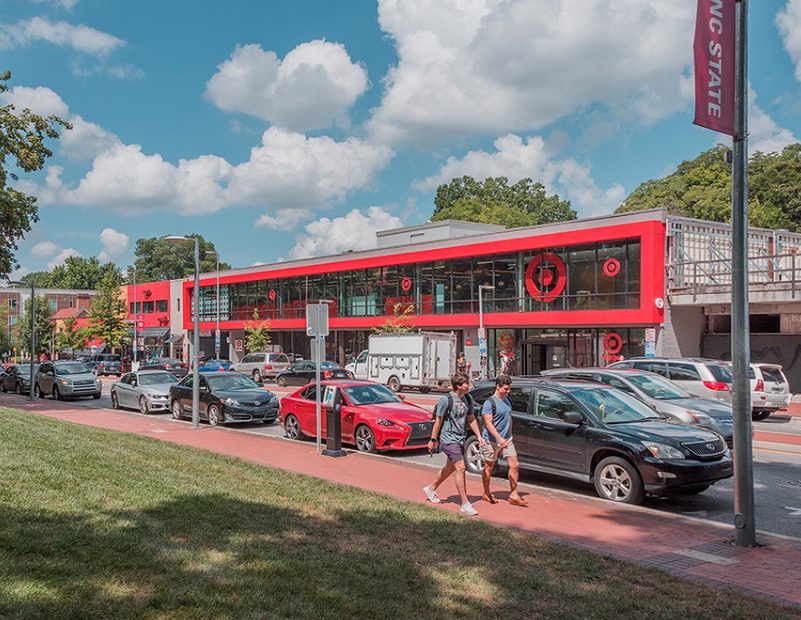 A new-format Target in Raleigh, N.C., has commanded $7.4 million for its emerging development team, Loden Properties. Completed in 2017, the two-level, 24,656-square-foot store was acquired by Stockbridge, the San Francisco-based real estate investment management firm.
An HFF investment advisory team including Tom Kolarczyk, director; Justin Good, managing director; and Warren Johnson, associate, represented Loden Properties in the transaction.
Located at 2512 Hillsborough Street, the store occupies a prime location adjacent to the campus of North Carolina State University, the largest in the state. The property is the only Target within a four-mile radius and is among some 130 small-format Target stores in the pipeline. Target is tailoring the slimmed-down format to suit compact urban cites and attract city residents.
Targeting History
Of note, the new Target occupies the former site of a bowling alley popular with college students and other local residents. To reflect that history, the store incorporates such elements as wood from the bowling alley and its logo.
"Loden Properties did an exceptional job converting the bowling alley into this urban-format Target store while honoring the history of the asset," said Kolarczyk in a statement.
Along with the 22,211-square-foot Target space, which includes a CVS pharmacy, the property features a 2,445-square-foot Guasaca, a fast-casual Venezuelan restaurant.
Loden Properties is a new partnership of Russ Jones and Henry Ward, both veteran developers and entrepreneurs. A third-generation real estate developer Russ Jones serves as president of Davidson & Jones Corp. His credits include a recently completed Aloft in Durham N.C.
Trained in engineering and law, Henry Ward has been involved in multiple Raleigh projects, including the redevelopment of 111 Seaboard; the acquisition of the Powerhouse Square project; and redevelopment plans for the 414 Hillsborough Street block. He has also served as COO of York Properties, a diversified real estate services firm based in Raleigh.
Some 106,000 residents live within a three-mile radius of the store. The university alone offers more than 34,000 students and 9,000 faculty and staff, HFF noted.