By Adelina Osan, Associate Editor
DoubleTree by Hilton recently announced the opening of a brand new hotel located near Wake Forest University. Located at 5790 University Parkway in Winston Salem, DoubleTree by Hilton Winston Salem – University opened following a $6 million property-wide renovation that included upgrades to the lobby, guestrooms, meeting facilities, and amenities.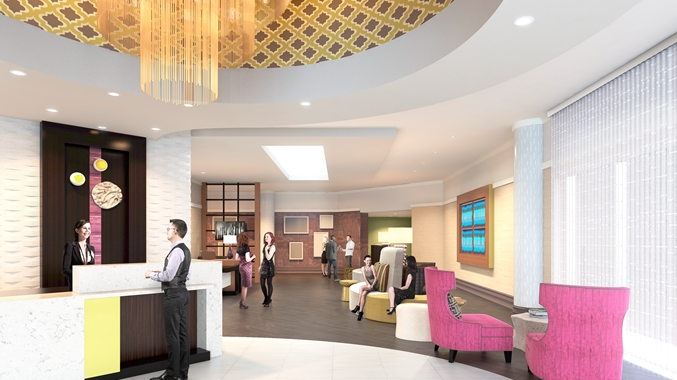 The former independently-owned University Hotel & Conference Center hotel is now owned by Salem Hotel Group LLC and managed by Paragon Hotel Co.
DoubleTree by Hilton Winston Salem – University features 150 guestrooms with an eclectic design celebrating Winston-Salem art and innovation. Hotel amenities include a 24-hour business center and fitness center, outdoor pool and deck complete with a fire pit, free Wi-Fi, bar area, lounge, and restaurant. Meeting rooms totaling 6,000 square feet are suitable for special events with up to 250 people. Larger parties are available using the 3,105 square foot Serendipity Ballroom and the 2,070 square foot Salem Room
"A rich history and bustling economy continue to make Winston-Salem a sought-after destination for both business and leisure travelers. Outside of the downtown area, there have been no full service hotels catering to this savvy travel audience until now, with the opening of DoubleTree by Hilton Winston Salem – University," said John Greenleaf, global head, DoubleTree by Hilton. "We are proud to introduce our brand's first hotel in the market and deliver travelers an upscale, full service hotel option that is known for providing award-winning service worldwide – starting with our signature warm chocolate chip cookie welcome and continuing at every touch point during their stay."
Rendering courtesy of DoubleTree by Hilton