By Anca Gagiuc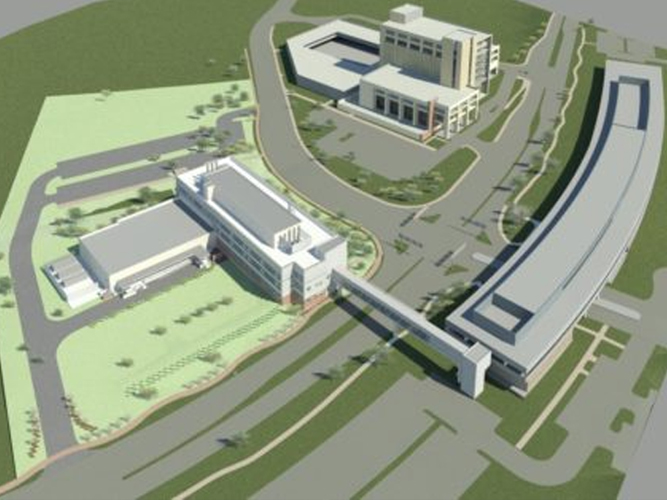 UT Health San Antonio broke ground on a new Sam & Ann Barshop Institute for Longevity & Aging Studies in the South Texas Medical Center. The three-story, 108,000-gross-square-foot building will be built at the corner of Floyd Curl and Charles Katz Drives, adjacent to UT Health's Medical Arts & Research Center and across the street from UT Health's Greehey campus.
The Barshop Institute, "ranks at the top of all aging institutes in the U.S., bringing together the world's leading scientists in aging and longevity research, providing them with the latest technologies in the application of cutting-edge research methods and supporting their drive for excellence in scientific inquiry," said President William Henrich.
Facility layout
The first floor of the building will comprise open research labs, laboratory support, administrative and research faculty offices, as well as a large vivarium with support spaces and cage wash facilities. The other two floors are shell space to accommodate future research labs and faculty offices. In addition, an open-air bridge will cross over Floyd Curl and connect the Barshop to the South Texas Research Facility.
Joe Straus, speaker of the Texas House of Representatives who represents San Antonio in the Legislature, pointed out that Texas currently is home to more than 3.2 million people who are 65 years of age and older. "And San Antonio is in the middle of this because of the many military retirees here. These aging Americans will need and benefit from the research conducted here," Straus added.
The Barshop Institute for Longevity and Aging Studies was born in 2001 thanks to a generous donation from Sam and Ann Barshop, two prominent San Antonio philanthropists. Since then, the Barshop Institute has become the only aging-intensive research institute in the country to have the following designations: two NIA-funded Centers (Nathan Shock and Claude Pepper), a testing site of the NIA-sponsored Interventions Testing Program and a U.S. Department of Veterans Affairs Geriatric Research, Education and Clinical Center.
Alamo Architects designed the building and J.T. Vaughn Construction LLC serves as construction manager. Completion is anticipated for late 2019.
Image courtesy of UT Health San Antonio