By Jessica Fiur, News Editor, Multi-Housing News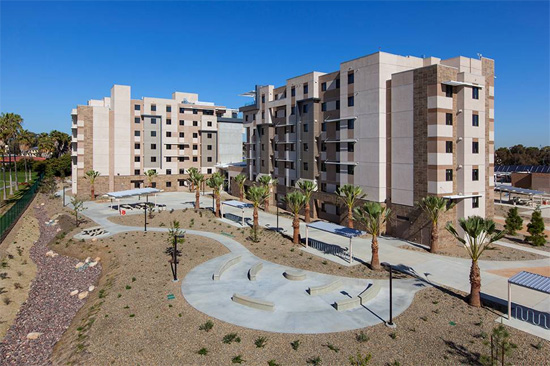 At ease, sailor! John William Finn Hall, a new 264-room dormitory in San Diego, is ready for its first residents. The $67 million dormitory is located on Naval Base Coronado and is part of the Navy's Homeport Ashore initiative, which is designed to improve the quality of life for sailors.
Architectural firms RJC Architects and Joseph Wong Design Associates, in a team with Hensel Phelps Construction Company, designed the dormitory to house more than 1,000 sailors. As opposed to a permanent residence, this housing is meant more as a refuge from the storm.
"The dorms are exclusively for unmarried enlisted personnel," James Robbins, principal, RJC Architects, tells Multi-Housing News, the sister publication to Commercial Property Executive. "The purpose of the Navy's Home Port Ashore initiative is to give these young sailors a place to live while their ship is in port."
John William Finn Hall is nearly 200,000 square feet. According to Robbins, "the room modules are two-bedroom suites; each suite accommodates four sailors. Shared amenities in each room module include a kitchenette, dining area and stacked washer/dryers."
Additionally, there is a community center, multipurpose rooms and a mess hall. "Recreational amenities include sand volleyball and basketball courts, a 10-station PAR fitness course, picnic and barbecue areas, and an outdoor amphitheater," Robbins said.
The dormitory also is environmentally sound. It is LEED-Gold certified, and offers sustainable features that provide a 30 percent reduction in energy and 40 percent reduction in water usage.
The project was funded by stimulus funds through the American Recovery and Reinvestment Act of 2009.
John William Finn Hall was named after John W. Finn, the oldest living Congressional Medal of Honor winner and the last living recipient who survived the attack on Pearl Harbor at the time of his death in 2010.