By Keith Loria, Contributing Editor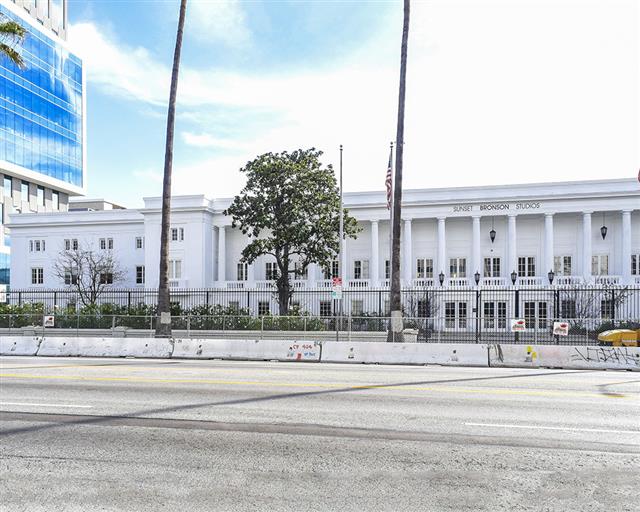 After leasing 99,000 square feet of soundstages and other space at Sunset Bronson last September, Netflix has signed a deal to lease another 43,000 square feet at the famous Hollywood studio from Hudson Pacific Properties Inc.
The new space includes the historic mansion on Sunset Boulevard where the Warner Brothers had their office for decades.
"This latest lease with Netflix demonstrates Hudson Pacific's success in locking in long-term lease agreements with top-tier content creators," Bill Humphrey, Hudson Pacific Properties' senior vice president, Sunset Studios, told Commercial Property Executive. "The transaction also highlights the growing demand for the limited supply of stages in Hollywood and the desire by leading content creators to secure state-of-the art production facilities for the long term."
To date, Hudson Pacific and Netflix have teamed on more than 560,000 square feet of office space. The streaming giant originally signed a deal for space at Icon, a 14-story, 326,000-square-foot creative office building developed by Hudson Pacific, in 2015, and earlier this year, Netflix signed a lease for CUE, Hudson Pacific's five-story, 92,000-square-foot office building also on the Sunset Bronson lot. 
"Netflix's growing presence at Sunset Bronson Studios is further momentum for the revitalization of Hollywood," Humphrey said. "The re-emergence of Hollywood as the entertainment production capital of the world is due to a variety of factors, including Hudson Pacific's more than $200 million investment in upgrading its Hollywood studios."
Sunset Bronson Studios is situated on 11 acres, just a block west of the 101 Freeway. It is bordered by Sunset Boulevard to the north, Bronson Avenue to the west, Van Ness Avenue to the east and Fernwood Avenue to the south.
Another tenant at the property is Tribune Broadcasting's KTLA, an affiliate of CW, which has been housed at Sunset Bronson for more than 50 years.
A studio expert
This past May, Hudson Pacific Properties acquired the Hollywood Center Studios, a 369,000-square-foot media and entertainment campus with future development rights for $200 million, renaming it Sunset Las Palmas Studios, and adding it to the Sunset Studios brand family.
Hudson Pacific also owns Sunset Gower Studios and Sunset Las Palmas Studios. It also plans to soon develop EPIC, a 13-story, 280,000-square-foot, state-of-the-art office complex on Sunset Boulevard across from these two studios.
Overall, the company owns 35 stages and 1.2 million square feet on 40 acres. It's Hollywood portfolio totals more than 3 million square feet across eight properties, including studios and land for development.
"Demand for sound stages and production offices is at an all-time high in Hollywood," Humphrey said. "The convergence of tech and entertainment production in Hollywood has motivated content creators such as Netflix, Amazon and others to locate to the community. They recognize the strategic importance of being part of Hollywood's dynamic ecosystem of creative artists and production talent uniquely concentrated in the region."
Image courtesy of Yardi Matrix