By Barbra Murray, Contributing Editor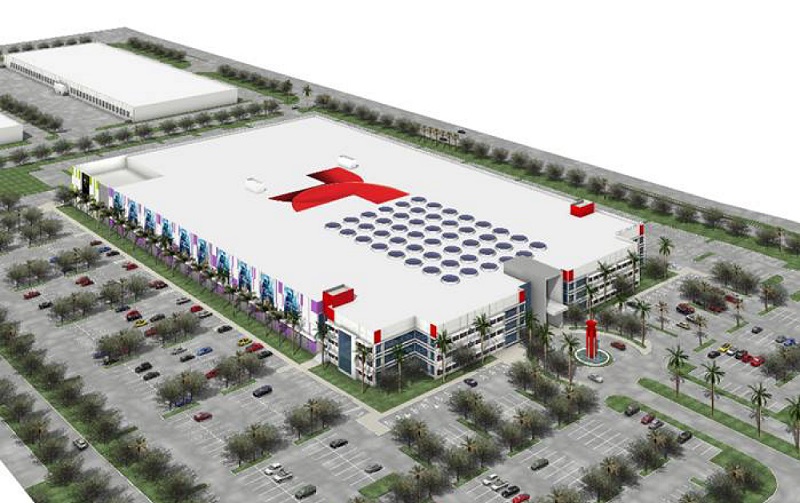 Miami—Cushman & Wakefield just orchestrated an industrial deal that is big news not just for Miami, but for Florida as well. The commercial real estate services firm represented NBCUniversal Telemundo in a half-million-square-foot build-to-suit lease for its new headquarters at the Prologis Beacon Lakes Industrial Park development, which is sprouting up in the city's Airport West submarket.
But the big news isn't just the size of the facility; it's the price tag. NBCUniversal and parent company Comcast are footing the $250 million bill for Telemundo's BTS corporate campus, in what constitutes the largest investment in a state-of-the-art multimedia production and broadcast facility in South Florida—ever. C&W calls it the most valuable commercial lease in the history of the Sunshine State.
Telemundo's new 560,000-square-foot home will encompass a 476,000-square-foot building featuring high-tech broadcast and entertainment studios, a network operations center, set design operations and post-production facilities. The bigwigs will have space too, as the building will also feature 100,000 square feet of executive office space. And there's more. The campus will include a separate 87,000-square-foot storage facility.
"Our new global headquarters will fold all of our division's offices and production studio spaces into one state-of-the-art facility that will help us do business in a more collaborative way," Cesar Conde, chairman of NBCUniversal Telemundo Enterprises and NBCUniversal International Group, said in a prepared statement.
All told, the Telemundo complex will occupy 21 acres. However, there will still be plenty of room left for other new tenants and development endeavors, as the multi-purpose Beacon Lakes park spans 478 acres. There's strong demand in the Miami-Dade industrial market. In 2015, the overall industrial vacancy rate dropped by 40 basis points, predominantly due to an increasingly loud cry for warehouse/distribution and office services space, according to a C&W report. The vacancy rate fell to 5.7 percent, net absorption went on the upswing, as did average asking rents.
For the Telemundo development, C&W also orchestrated a forward disposition in which Prologis sold the land for the project to SunTrust Bank, which is now the media company's landlord. If all goes as planned Telemundo will set up shop at its new home in 2018, consolidating 1,100 employees in one central location and leaving ample elbow room for at least 200 additional staff members.
"To say this has been a team effort would be a gross understatement," Brian Davis, executive director with C&W, said in a prepared statement. "It's been a collaboration of countless individuals and firms working hard on this project for almost three years."