by IvyLee Rosario
Washington—PM Hotel Group and The Buccini/Pollin Group topped off the nation's first Canopy by Hilton Washington D.C./Bethesda North, located at 11860 N. Trade St. in Bethesda, Md.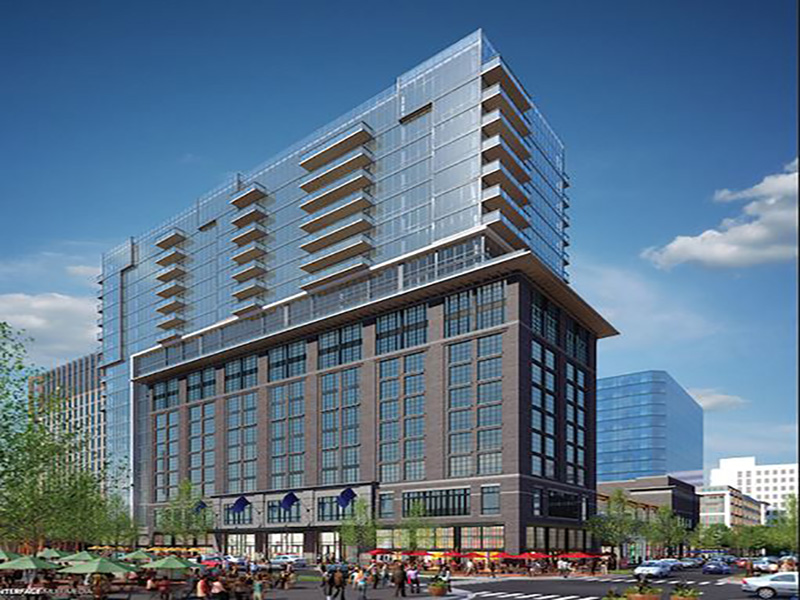 The 177-key hotel will include 23 suites and two, three-bay presidential suites. The hotel will also incorporate complimentary Wi-Fi, 4,350 square feet of meeting space, a 3,100-square-foot ballroom, a signature brand bistro and a cafe/bar area. The property is part of Phase II of Pike & Rose, a new, four-block mixed-use development that offers dining, retail and entertainment options.
The hotel is set to open in quarter four 2017, adding more than 100 permanent jobs when completed. This will be the second property to open under the Canopy by Hilton brand, the first being Canopy by Hilton Reykjavik City Centre, located in Iceland. From 2017 to 2019, other Canopy by Hilton properties will open in Portland, Dallas,  London, Minneapolis, Oklahoma City, Atlanta, Chicago, San Antonio, Charlotte, Baltimore, Columbus, West Palm Beach, Fla. and Ithaca, N.Y.
The new Washington D.C. hotel is located one block from the White Flint station on the Metro's Red Line, providing easy accessibility to downtown Washington, D.C.; Bethesda and Rockville, Md.; Northern Virginia and Washington Dulles International Airport, Ronald Reagan Washington National Airport and Baltimore-Washington International Airport.
"We are thrilled to say 'hello to the Canopy Washington, D.C./Bethesda North,' as the first North American Canopy by Hilton hotel to celebrate its topping off," said Gary Steffen, global head of Canopy by Hilton, in prepared remarks. "The vibrant neighborhood serves as an ideal location given its ability to act as both a business hub and recreational destination with attractive and unique shopping, dining and entertainment opportunities and we look forward to welcoming guests later this year."
Image courtesy of The Buccini/Pollin Group