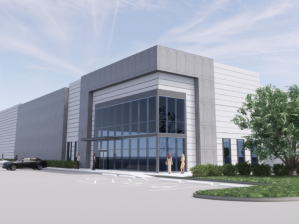 Partners Capital has selected NAI Partners to lease TaylorPort Rail Park 01, a speculative distribution center totaling 350,000 square feet in Taylor, Texas, the first spec building in the 750-acre RCR Taylor Logistics Park.
The property will take shape on more than 25 acres at 201 FM 3349, within an Opportunity Zone and will also provide 2,500 square of office space. TaylorPort Rail Park 01 is expected to be delivered in late 2022 and will be connected to rail service operated by BNSF and Union Pacific.
---
READ ALSO: Why Secondary Cities Are Pulling Ahead
---
The distribution building will be equipped with an ESFR sprinkler system and will feature a 40-foot clear height, 63 dock high doors, two ramp doors and a 185-foot truck court. The industrial complex will offer ample parking with 115 trailer parking spaces and 175 car parking spots.
The development is next to Texas State Highway 79, within 6 miles of Texas State Highway 130, less than 3 miles from Taylor Municipal Airport-T74 and some 32 miles northeast of downtown Austin.
Austin's industrial boom
With strong demand for industrial space, the sector is booming nationwide. Austin surpassed 55 million square feet of total stock in the second quarter of the year, with an additional 11.5 million square feet under construction, according to a recent JLL report.
The year's second quarter also recorded strong leasing activity, with more than 2.7 million square feet leased, a record high, almost double the three-year quarterly leasing average, according to the same report.
Favorable market conditions are mirrored by the metro's shrinking unemployment rate, at 3.8 percent as of August, according to preliminary BLS data, well below the 5.2 percent U.S. average and a far cry from the 11.8 percent registered at the height of the pandemic. What's more, the Austin market had nearly 1.3 million employees as of August, roughly 17,500 more positions than right before the pandemic hit.