By Keith Loria
A joint venture between MRP Industrial and Hillwood has acquired and begun construction on Hamburg Logistics Park, a 165-acre project in the Lehigh Valley West submarket of Hamburg, Pa. JLL represents the project on behalf of MRP Industrial and Hillwood.
When finished, Hamburg Logistics Park will consist of three buildings totaling approximately 1.9 million square feet. "Hamburg Logistics Park will appeal to a wide variety of distribution requirements due to its access to major interstates, proximity to labor and central location within the Northeastern U.S.," Reid Townsend, MRP Industrial's co-founder & principal, told Commercial Property Executive. "In addition, the site plan provides tremendous flexibility to accommodate both traditional distribution requirements and direct to consumer fulfillment operations."
The property will be situated along the Interstate 78 corridor, residing on the former Perry Golf Course. It's located near Exit 29, along Route 61, which provides ample multidirectional access to cities such as New York, Philadelphia, Baltimore and Washington D.C. Tenants will be able to reach 40 percent of the U.S.' population within a day's drive.
"The I-81/I-78 Industrial Corridor has experienced five years of steady demand for industrial real estate—from both tenants and institutional investors," Townsend said. "Over the past 18 months, MRP Industrial's developments in Pennsylvania have experienced over 3-million square feet of absorption, which provided a strong platform to promote and raise capital for new speculative development. Our presence as active participant in the Pennsylvania industrial market has also provided reliable data points that suggest demand will continue to stay strong through 2018 and 2019."
Hamburg Logistics Park will be accessed by a new signalized intersection and new public road, Logistics Drive.
A Two-Phase Process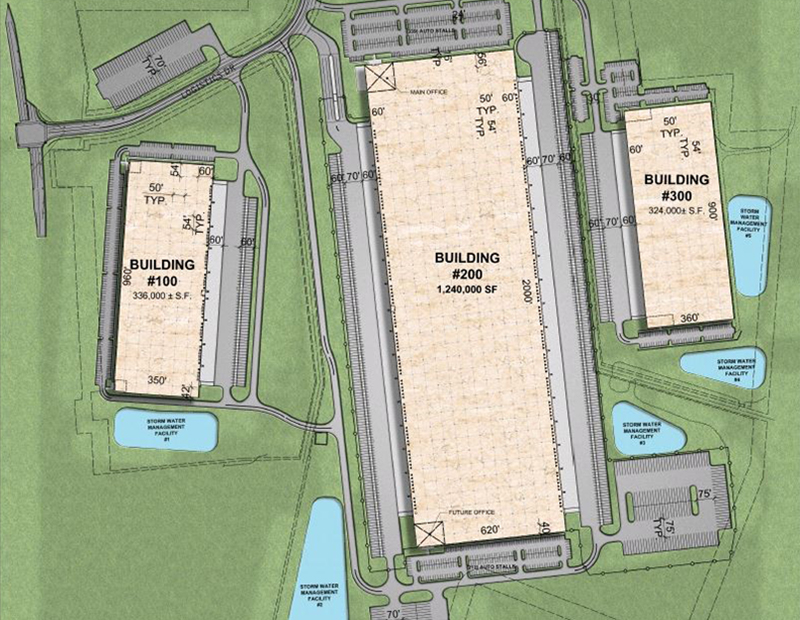 The first phase of construction includes the speculative development of 101 Logistics Drive, a 336,000-square-foot, Class A single loaded distribution center, and 201 Logistics Drive, a 1.24-million-square-foot, Class A cross dock distribution center. The former is expected for delivery in the third quarter of 2018, with the latter by the end of that year. The 201 Logistics Drive will eventually be the largest speculative building ever developed in Eastern Pennsylvania.
Construction of Phase 2 will consist of the development of 301 Logistics Drive, a 324,000-square-foot Class A facility, which is anticipated to create more than 1,500 full-time jobs in Berks County. The park will also provide convenient access to the region's major third-party parcel shipping hubs, responding to steady demand for both traditional distribution requirements and direct to consumer fulfillment operations.
Ware Malcomb will serve as the architect for the project. The Conlan Company will serve as the General Contractor.
Earlier this year, MRP Industrial acquired and begun construction on Eastgate 95 Industrial Park, a 243-acre project that will see three buildings of up to 2.5 million square feet in Perryman, Harford County, Md., approximately 30 miles north of Baltimore along the I-95 corridor.
According to Townsend, over the past four years, the company has built 27 buildings totaling more than 10 million square feet. "Our strategy to have speculative product available at a wide variety of size ranges in each of the submarkets we serve," he said. "Hamburg Logistics Park allows us to effectively service tenant requirements in the Lehigh Valley as small as 100,000 square feel to over 1.2-million, all within a single-park setting."
Photos courtesy of MRP Industrial