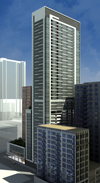 By Barbra Murray, Contributing Editor
In response to the growing demand for apartments in metropolitan Chicago, M&R Development has kicked off construction of two projects, Summit on Lake and Central Station, in the Chicago area. The properties will bring 412 luxury residences to the market.
In Chicago's Loop submarket, Summit will tower 42 stories above the city and offer 332 units, as well as 187 parking spaces. McHugh Construction is on board as the general contractor for the project, which is on track to open its doors to the first residents in April 2014.
The increasingly loud cry for luxury rentals can be heard beyond Chicago proper. Renters are hungry for space in locations across the metropolitan area, including Evanston, where Central Station will offer 80 units and 24 parking spaces. The property will also feature nearly 10,700 square feet of ground-level retail space. General contractor McShane Construction will wrap up work in time to welcome the first residents in July 2013.
Demand is on the rise, and the proof is in the numbers. The vacancy rate fell 30 basis points to 4.4 percent in the second quarter, marking the 13th consecutive quarter of decline. In the suburbs, the vacancy decreased 20 basis points to 4.1 percent in the second quarter. The forecast for both submarkets is for continued drops in vacancies throughout the year.
Other developers are responding to the gap between supply and demand in the Windy City, particularly in the luxury market. Just last month, JCF Real Estate submitted plans to the local zoning board for a mixed-use apartment development that will offer 405 residences.