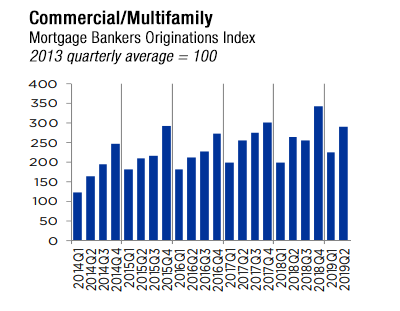 The commercial real estate and multifamily market remained robust through the first half of 2019. According to the Mortgage Bankers Association's Quarterly Survey of Commercial/Multifamily Mortgage Bankers Originations, commercial and multifamily mortgage loan originations were 10 percent higher in the second quarter compared to a year ago and rose 29 percent from the first three months of this year.
Falling long-term interest rates and sustained strength in commercial real estate markets lifted commercial and multifamily mortgage originations through the spring. Specifically, originations for life insurance companies and for Fannie Mae and Freddie Mac continued at record paces during the first half of the year, as did originations of loans backed by multifamily and industrial properties.
With rates even lower during the third quarter, absent a major economic disruption, 2019 is shaping up to be another record year for commercial mortgage lending.
Jamie Woodwell is vice president of Commercial Real Estate Research for the Mortgage Banker's Association.