By Gail Kalinoski, Contributing Editor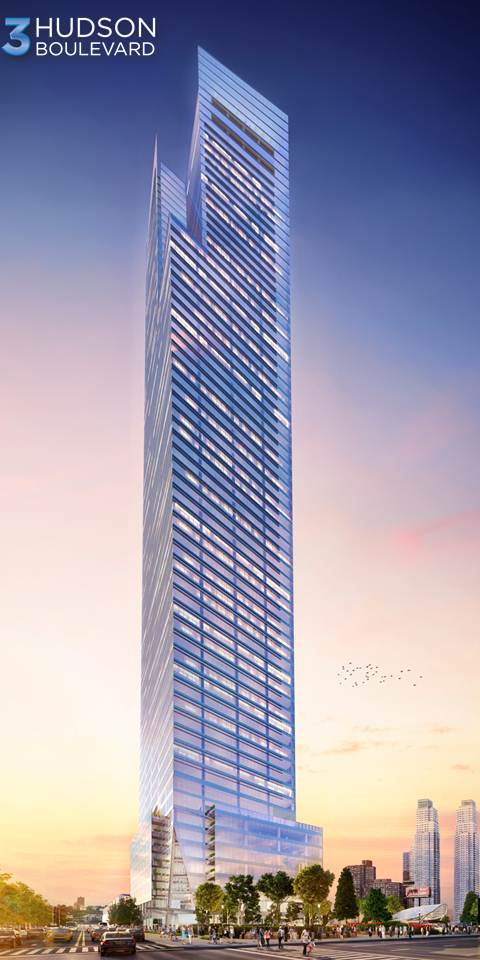 Plans for 3 Hudson Boulevard, the 1.8 million-square-foot tower being built by The Moinian Group in the Hudson Yards district on Manhattan's Far West Side, are moving forward with news that the developer has secured a land loan from AIG's Commercial Mortgage Lending Group.
Details about the loan were not released.
The LEED Platinum mixed-use skyscraper will occupy the entire block between 11th Avenue and Hudson Boulevard Park from W. 34th St. to W. 35th St. Designed by Dan Kaplan of FXFOWLE, the tower will rise more than 1,000 feet. It includes 48,000-square-foot floor plates on the podium level, 30,000- to 34,000-square-foot, column-free floor plates in the tower office floors, 11 foot-high-ceilings and floor-to-ceiling windows. Plans call for the skyscraper to have approximately 1.5 million square feet of Class A office space and 22,000 square feet of retail space. The highest floors may have another 350,000 square feet of Class A office space or up to 14 floors of luxury residences.
The developer and its leasing agent, Avison Young, are continuing to attract interest from several large companies vying for the position as the anchor office tenant, according to a news release from The Moinian Group. The tower is across from the Javits Convention Center and at the entrance to the new 7 subway line extension.
Joseph Moinian, founder of The Moinian Group, last year said construction of the skyscraper would cost $800 million to $900 million. He and Arthur Mirante, Avison Young tri-state area president, said rents would be starting at $85 per square foot and more than $100 for the higher floors.
The tower will be part of the Hudson Yards district on the Far West Side bounded by W. 42nd St., Eight Avenue, W. 30th St. and Hudson River Park. The largest development is the $15 billion Hudson Yards project from Related Cos. and Oxford Properties Group. That 28-acre mixed-use development will eventually have more than 13 million square feet of retail, residential and office space, a hotel, a public school, parks and cultural offerings. The first office building, 10 Hudson Yards, is under construction. The 1.7 million-square foot-tower will be home to Coach Inc., L'Oreal USA and SAP. Time Warner Inc. plans to move its corporate headquarters to 30 Hudson Yards, a 2.6 million-square-foot skyscraper due for completion in 2019.
Tishman Speyer acquired several parcels in the Hudson Yards district where it plans a mixed-use tower that could have up to 2.8 million square feet of space on a full block stretching from W.34th to W. 35th streets and from 10th Avenue to what will be Hudson Park and Boulevard. Brookfield Office Properties is developing Manhattan West, a 7 million-square-foot mixed-use project along Ninth Avenue and 33rd Street.
Despite all the competition in the Hudson Yards district, Moinian told Commercial Property Executive in a recent magazine cover story that he was "very happy to be part of the effort that is happening." He also noted that 3 Hudson Boulevard was fully entitled so the company is ahead of much of the other tower development.