By Keith Loria, Contributing Editor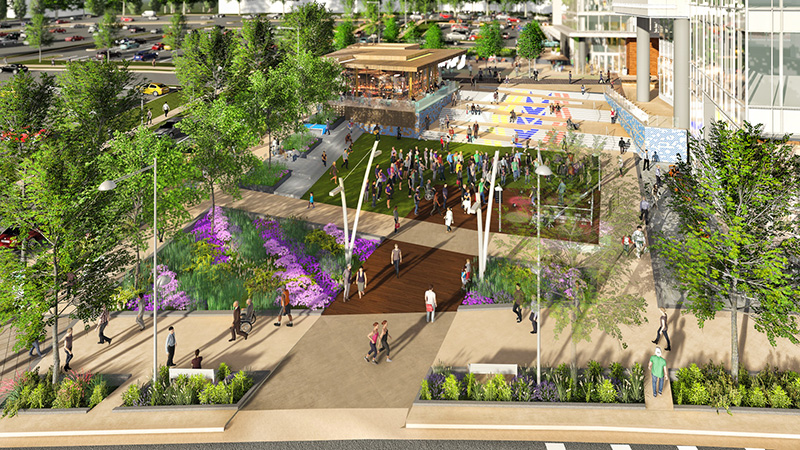 The Meridian Group is moving forward with plans to develop The Boro, an 18.1-acre mixed-use development in Tysons, Va., after Fairfax County approved the 4.2 million-square-foot development located within walking distance of the Greensboro Metro station.
The Boro will feature a dynamic mix of offices, apartments, condominiums, upscale stores, restaurants and entertainment.
"The Boro is the premier Metro-oriented development site in the region and is poised to transform the Tysons market as it is known today," Tom Boylan, The Meridian Group's vice president, told CPE. "Transitioning Tysons from a commuter-driven 'Edge City' to a dynamic, self-sustaining urban district, The Boro's development will signify a market-changing event—moving away from the area's traditional single asset-focused suburban sprawl and towards intelligently designed, mixed-use, walkable communities."
The Meridian Group has a joint venture with Kettler to develop The Boro's four residential buildings as well as the retail space in those buildings and Shalom Baranes Associates is set to design the buildings. The first phase, which is scheduled to break ground in summer 2016, will consist of approximately 1.7 million square feet of mixed-use development, and will include 800 residential units, 443,000 square feet of office space, a one-acre public park called Magnetic Park and 252,000 square feet of destination retail space, anchored by Whole Foods Market and ShowPlace ICON Theatre. The Whole Foods Market, which will be the biggest in the D.C. region, is planned to include a craft-beer brewing operation and demonstration kitchens and will open in 2019. The ShowPlace ICON Theatre will open in summer 2018.
"With such a critical mass delivering in its first phase, The Boro will immediately create a 24/7 'live, work, experience' community," Boylan said. "There will be two major destination retailers located at opposite ends of the project, connected by a pedestrian-friendly retail street and large urban park."
Conveniently located near Route 7, Route 123 and Greensboro Drive and situated on "The Hill," Fairfax County's highest elevation, The Boro's sweeping views will extend from downtown Washington to the Reston skyline and beyond to the Blue Ridge Mountains.
Tysons is one of the most desirable submarkets in the Washington metropolitan region. It is the 12th largest employment center in the country with more than 28 million square feet of existing office space.
"Its superb transportation infrastructure—anchored by the convergence of I-495 and its recently opened 'HOT' lanes, several major arterial roadways and the new Silver Line Metro—has made Tysons a desirable location to both live and work," Boylan said. "Already home to five Fortune 500 company headquarters, Tysons has established itself as a preeminent business center."
When complete, The Boro will consist of more than 1,500 residential units, 1.8 million square feet of office, 316,000 square feet of retail, and 250,000 square feet of hotel space.