By Eliza Theiss, Associate Editor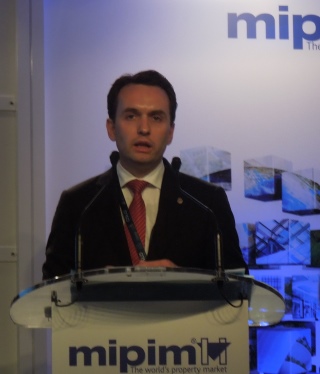 "Urbanization brings metropolitanization, but not everybody remembers to say that urbanization is also about re-urbanization" said Professor Clark Greg while kicking off the Best Practices for Inner City Development conference at MIPIM.
The noteworthy panel on the first day of the Cannes tradeshow offered views and approaches for the best way to rejuvenate inner city cores for both large metropolitan areas, such as Rotterdam and the Hague or smaller cities such as the City of Medicine Hat, Canada.
One of the ideas all the speakers agreed upon was keeping in contact with city dwellers per se, regardless if the redevelopment of the inner city affects them directly or not. Keeping open the lines of communication, giving opportunity to voice concerns and offering a reliable way to contact city decision makers are some of the most effective ways to facilitate the success of such undertakings. Surveys, open houses, panels, town hall meetings, e-mailing, as well as social media communication go a long way in including residents in the developmental happenings of their city.
According to panel moderator Clark Greg , urban rejuvenation goes far beyond the physical redevelopment of the inner city; it's closely related to the economy and recalibrating space for new economic activity, to governance and how the inner city's management is handled. B ut moreso, it's about the people and the assurance of inner city residents enjoying their living surroundings.  And public spaces play a major role towards that goal. Also, the upgrade and expansion of the public transportation system are the first things implemented in urban rejuvenation projects, according to Stian Berger Rosland, Governing Mayor City of Oslo.  The Oslo approach utilizes not only these principles but also combines them with other key factors of developing and redeveloping inner cities: providing education opportunities and cultural ones, such as the utilization of a library as anchor for a livability project.
The importance of offering education opportunities was also highlighted by Norm Boucher, Mayor of City of Medicine Hat, who suggested adding a university to his town of approximately 61,000 residents.  Education opportunities in the city can also aid in shaking up the inner city residential mix.  Young couples with small children who would have to move to suburban areas can and choose now to stay or stay longer in Oslo with the expansion of public spaces and kindergartens in the inner city. The current downtown living trend gravitates away from the homogenous young, hip urbanite inner city dweller towards an inner city multigenerational family  that plays, relaxes shops and works while also raising children within the inner city. This combination of functions was also highlighted by KOK MPA Leonard H, CEO of Department for Economic and Urban Development City of Hague, adding the need to combine historic aspects of inner cities with more modern designs.
Urban rejuvenation is basically taking the parts of a city that are no longer being used in the way they once were, and recycling them so that they can be reused, which  requires forethoughts and massive amounts of planning, which often exceeds the lifetime of a political leadership. Ensuring continuity throughout inner city development and redevelopment projects, such as Rotterdam's vision of the "City Lounge" inner city redevelopment, that has just started to foster demand, which shows that these types of projects can take up to decades , can be ensured by public-private partnerships, according to MSc Hans Van Rossum, City of Rotterdam, Project Director Major Projects, Urban and Economic Development. However, not every strategy works on every city. According to Mayor Norm Boucher, recognizing different parts of the city, with its different set of problems and ways are keys to successfully develop inner cities, because a healthy inner city affects the entire area positively.
In the current development environment, keys to successfully developing inner cities are a mixed land use, livability, a lifestyle brand, investment and management innovation and reinvention.