By Adriana Pop, Associate Editor
R2 Cos. has acquired the 1.1 million-square-foot post office building at 341 West St. Paul Ave. in downtown Milwaukee. The four-story structure, which covers 9.3 acres, sold for $13 million, according to the Journal Sentinel.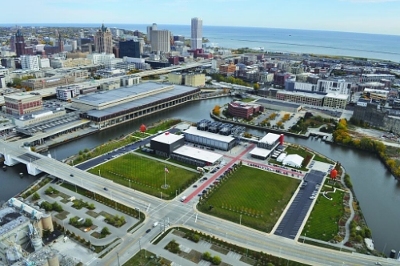 The Barry Co., which was the principal broker in the transaction, told the newspaper that the property drew multiple offers and that the sale price topped the asking price of $12.8 million.
The building has 1500 feet of frontage on the Menomonee River and offers convenient connections to transportation, since it is located next to the Milwaukee Intermodal Station, Milwaukee's main intercity bus and train station, which was renovated in 2007, and will be a hub for the proposed Milwaukee Streetcar Line.
The U.S. Postal Service has occupied the property since 1968 and holds a lease that runs for almost another five years, along with renewal options. However, the organization is considering venues in metropolitan Milwaukee for a more efficient site. Meanwhile, R2 intends to work with the City and local stakeholders to determine the best adaptive reuse for this venue.
"While the Post Office still occupies this building, we view this as an irreplaceable adaptive reuse development site. A developer is lucky to get one or two opportunities in a career to work on a project of this magnitude," Matt Garrison, R2's managing principal, said in prepared remarks. "Our objective is to be patient stewards of this site and develop it in the best possible way for the City of Milwaukee."
Milwaukee has experienced extensive urbanization of its downtown neighborhoods over the past two decades. The most notable ones are its warehouse districts, including the Third Ward and Walker's Point, as well as a downtown entertainment district centered around the newly announced basketball arena for the Milwaukee Bucks.
Photo credits: City of Milwaukee