By Gail Kalinoski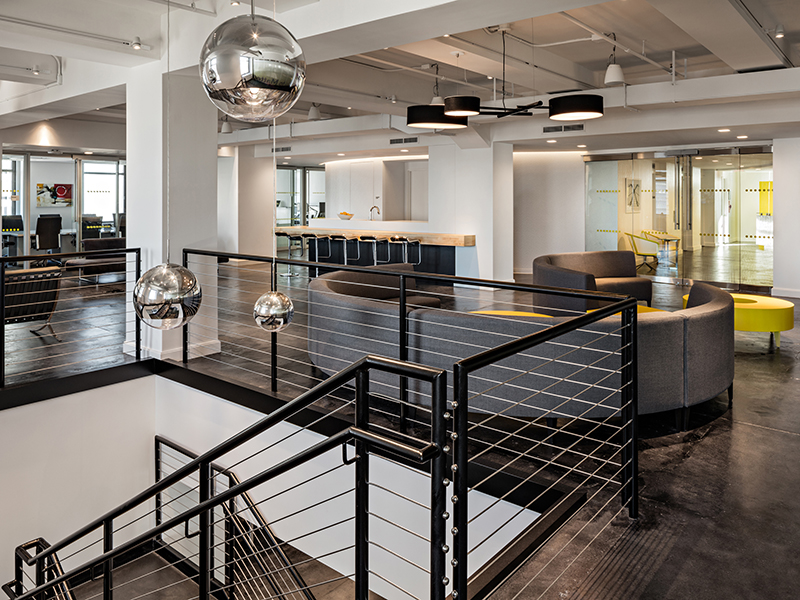 As the largest, fastest-growing segment of the workforce, Millennials are having a dramatic effect on the modern office. Their well-documented influence on technology, media and advertising continues to shape workplace strategies for those creative industries. Perhaps less obvious, however, is the long reach of the Millennial factor. In a bid to capture this powerful cohort, developers and designers are increasingly blurring the lines between traditional and contemporary workplaces and sometimes even between property categories.
Take, for example, a four-building project scheduled to break ground early next year in Carlsbad, Calif. At first glance, a casual observer will probably mistake it for a contemporary office campus, marked by sleek lines and inviting glass facades. Yet the 212,000-square-foot campus, dubbed dis•trib•ute, will actually be a cutting-edge industrial facility.
The project is the brainchild of RAF Pacifica Group, which is making a mission of bringing indoor/outdoor amenities and a creative
corporate headquarters aesthetic to the industrial sector. To accommodate the tastes and lifestyles of Millennials, RAF Pacifica introduced a branded concept called Creative Industrial.
"I noticed that not only were there more Millennials in the workforce but many were starting to take over businesses that were run by their families or starting their own," explained Adam Robinson, founding principal of the Encinitas, Calif.-based firm. "They think they're walking into a Class A office space, but it's got a warehouse behind it." One project attracted a tenant with the curb appeal of its two-story, glass-enclosed lobby and private outdoor break area.
Although the designs offer ample curb appeal, Robinson emphasizes that the properties will provide the standard features expected by industrial clients: grade-level and dock-high loading doors and 30-foot-plus ceiling clear heights, for example.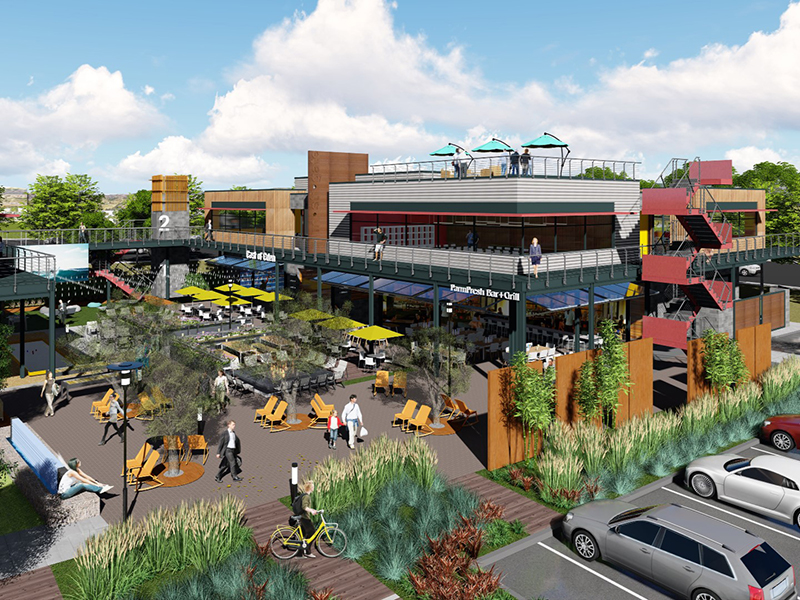 RAF Pacifica also plans to bring Millennial appeal to in•sti•gate, a 50,000-square-foot campus in Carlsbad, Calif. Planned for an August 2017 groundbreaking, the two-building property will incorporate loft-style buildings with exposed HVAC, high-end restaurants, a fitness center, rooftop decks, shady outdoor meeting hubs and bike-friendly paths.
A few miles' drive south on Interstate 5 from Carlsbad, another forward-looking corporate property captures the Millennial corporate aesthetic. The Alexandria at Torrey Pines serves as a multifaceted community center for San Diego's life-sciences hub. Owned by life sciences developer/investor Alexandria Real Estate Equities, the facility features a fitness center, auditorium and training room. The Farmer & the Seahorse restaurant adds a touch of cool with a private dining room housed in an Airstream trailer. Outdoor seating areas offer casual meeting places to congregate. And concierge services offer everything from physical therapy and auto detailing to fresh produce.
Across the country in New York City, the Alexandria Center for Life Science comprises a 728,000-square-foot campus with two Class A office/laboratory buildings on the East River. As a hub for the city's burgeoning life science sector, the facility provides a digital conference center and event space, two upscale restaurants, a fitness center, a waterfront esplanade and an urban farm. Locating Millennial-friendly life science facilities in urban campuses helps tenants "tap that talent pool," asserted Joel Marcus, Alexandria's chairman & CEO. "With these kinds of facilities, I think you innovate and collaborate much more effectively."
"The amenities really transform life for our tenants," said Emily Sheridan, Alexandria's executive director of strategic programming and philanthropy. "They are becoming a critical part of enticing tenants." Similar to other Alexandria properties, the Manhattan farm not only provides food for the restaurants but is also a "unique piece of the campus that really brings people together," she added.
Alexandria's Manhattan campus will soon host a new space that promises Millennial-friendly features. Scheduled to open next summer, Alexandria LaunchLabs will provide affordable, full-service commercial lab/office space and capital resources for life-science startups, many of them run by Millennials. Described by Alexandria as affordable, plug-and-play and scalable, the 15,000-square-foot facility will also be the first of its kind in the life sciences sector. An extra perk for tenants: access to capital from an Alexandria affiliate targeting entrepreneurs and emerging life science companies.
Meanwhile, owners of conventional office buildings continue to find creative ways to appeal to Millennial workers. Olive Hill Group, a Los Angeles investment company, acquires value-add office properties in Southern California and transforms them into creative spaces with collaborative environments, indoor and outdoor gathering areas, works from local artists in the lobbies and a variety of food options.
The firm is repositioning 631 Olive St., a nine-story, 100,000-square-foot downtown Los Angeles office building, as 6 and Olive to attract companies in search of a hip urban core location, said Tim Lee, vice president of corporate development and legal affairs.
Olive Hill overhauled the office spaces, opening up ceilings and eliminating fluorescent lighting. The lobby is being modernized and it is seeking a poke restaurant for the ground floor because the Hawaiian-based cuisine is popular with younger consumers, Lee said.
In May, Olive Hill acquired 200-300 Corporate Pointe, a campus-style property with two Class A office towers totaling 206,538 square feet in Culver City, Calif., for $65.5 million. The towers were built in 1988, giving Olive Hill an opportunity to reposition the property and attract tenants priced out of Playa Vista, a nearby Los Angeles submarket popular with technology companies.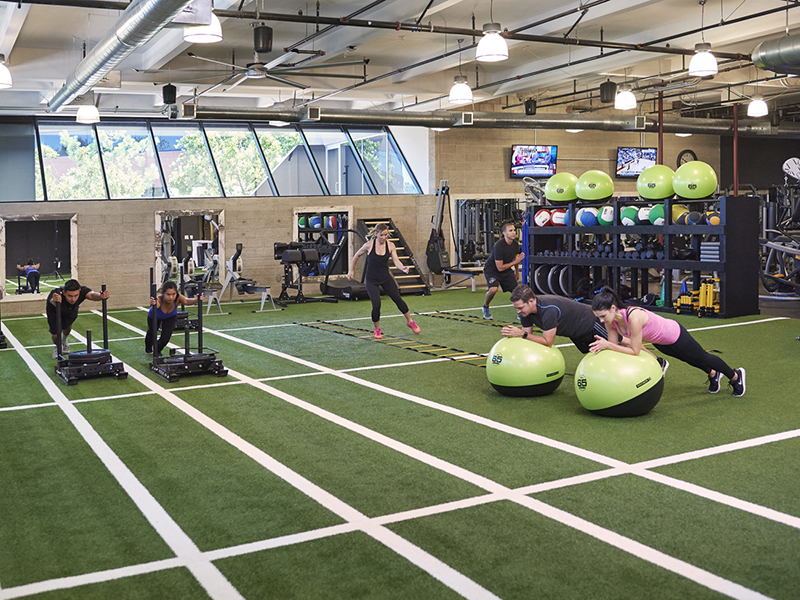 Olive HIll is transforming a courtyard into an outdoor workspace and play space with bocce ball courts, mini golf and seating areas. The firm is bringing in food trucks with menu choices intended to appeal to Millennials. Other additions made with Millennials in mind include a fitness center and creative-office touches such as hardwood floors, exposed ceilings and open floor plans.
Yet creative designs are no longer just for technology, advertising, media and information companies, noted Marc Spector, principal in architecture, interior and master-planning firm Spector Group. For Marcum LLP, an accounting and advisory firm based in New York City, Spector Group provided a national redesign strategy intended to attract Millennials and "shed the image of what a typical accountant space is." Starting with the firm's Boston location, Spector Group devised a plan that emphasizes informality, with features like corridor-free floor plans, executive offices in the form of glass cubes, collaborative work areas and cafes.
At Magna, an investment firm headquartered at 40 Wall St. in downtown Manhattan, the Spector Group created a vertical campus by opening up the floor between two levels occupied by the firm. White walls and clear glass bathe the space in natural light.
Many companies are opting for similar corridor-free spaces and vertical campuses. Bleacher-type seating is set up along staircases to open up the space and provide areas for workers to sit and collaborate, listen to a lecture, or eat food from the café. Colors are bright, and logos and other designs are used to show companies' brands.
Images courtesy of RAF Pacifica Group and Ben Gancsos Photography
Originally appearing in the November 2016 issue of CPE.