December 20, 2011
By Barbra Murray, Contributing Editor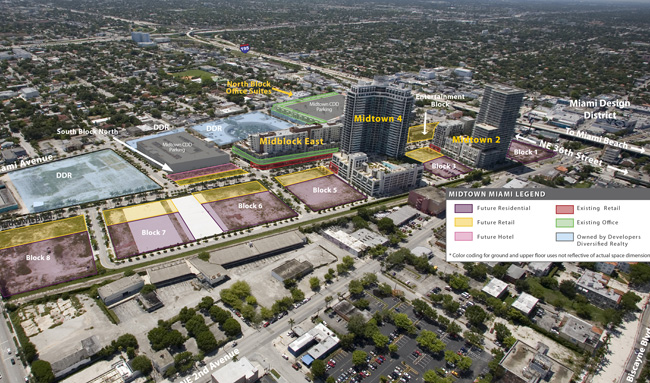 Construction activity is on the upswing in Miami, and Midtown Opportunities L.L.C. has just purchased 22 acres to play with at the 56-acre Midtown Miami development. The private investment group shelled out nearly $57.3 million in cold hard cash to acquire the land from Midtown Equities L.L.C.
Commercial real estate and capital markets services provider HFF sealed the deal on behalf of the seller.
Midtown Miami has sprouted options ranging from residential to commercial and presently features 110,000 square feet of retail and office space among its offerings. In addition to thousands of condos and apartments, the mixed-use destination's The Shops at Midtown Miami, owned by DDR Corp., will ultimately present over 600,000 square-feet of retail.
Midtown Opportunities has not yet revealed plans for its newly acquired land, which consists of 16 acres within Midtown Miami and six bordering acres that were once the site of a Chiquita Banana facility. Putting condominiums on the agenda may or may not be a good move. The mixed-use compound is already home to a bevy of for-sale multifamily residences, many of which sat vacant through the economic downturn. However, now that the market is back on the upswing, the condos are quickly finding new owners.
According to the Miami Downtown Development Authority, only 4,000 of the 23,000 new condo units that debuted in the city just before the big housing crash remained unclaimed by the middle of 2011. If Midtown Opportunities decides to go with condos, it will not be alone. Newgard Development Group recently announced that in 2012, it will kick off construction of the $170 million BrickellHouse, the first newly conceived condo project to get off the ground in the city since 2008.
Miami's hotel market is also getting some attention from developers, and lenders appear to be onboard. In November, Lowe Enterprises Investors orchestrated a $51.2 million construction loan for the redevelopment of the 1930s-era Ritz Plaza Hotel into the 142-room SLS Hotel South Beach.
Retail, residential, lodging. Depending on zoning, the Midtown Opportunities may have more than a few options for its 22 acres at Midtown Miami.