By Barbra Murray, Contributing Editor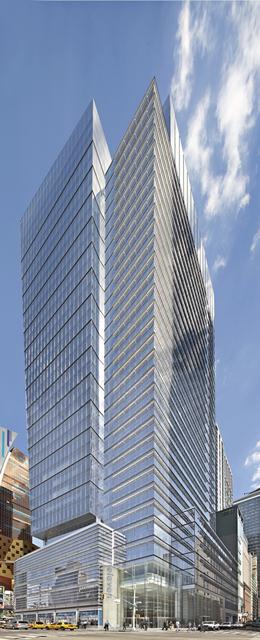 Microsoft has committed to a big chunk of space at 11 Times Square with the signing of a new lease for 200,000 square feet at the state-of-the-art, 1.1 million-square-foot office and retail skyscraper.
SJP Properties, which owns the 40-story tower in a joint venture with investors advised by Prudential Real Estate Investors, can claim a lease level of 70 percent with the new Microsoft agreement. The deal comes two years after 11 Times Square first swung open its doors in Midtown and welcomed global law firm Proskauer to 400,000 square feet in the building.
"The original strategy for 11 Times Square was to create a state-of-the-art commercial building that provides world-class companies with a technologically superior, energy-efficient work environment in a location that offers unparalleled access to transportation," Jeff Schotz, executive vice president with SJP, told Commercial Property Executive. "The decision by Proskauer, and now Microsoft, to relocate to 11 Times Square is a strong validation of this vision and highlights the building's appeal to tenants in a diverse array of industries, including the expanding technology and new media sectors."
Indeed, it's an offering that would appeal to the tech sector, and now that the Microsoft name will grace the tenant roster at the LEED Gold-certified high-rise designed by FXFOWLE, it is not unlikely that other tech firms will follow. However, currently there are limits to the pool of potential tech-industry users in Manhattan. "High-tech employment grew 4.3 percent, but remains a small portion of the overall Manhattan job base," as noted in a fourth quarter report by Jones Lang LaSalle, which represented both the ownership and Microsoft in the lease transaction.
But SJP is not putting all its eggs in the tech basket. "We are currently seeing interest from companies in the technology and financial services industries for the remaining space at the building," Schotz said. 
The Midtown office submarket could use a boost.  In the fourth quarter, demand for trophy office space declined for the first time since 2009, and asking rents in 2012 decreased 5.5 percent. At Class A properties, rents remained mostly flat and landlord concessions went on the rise. Still, Midtown had its moments last year. In September, international law firm of Chadbourne & Parke signed a 20-year lease for 200,000 square feet at 1301 Sixth Avenue, marking one of the largest lease agreements in Manhattan in 2012.