By Timea Papp
Miami is home to some of the tallest office buildings in the nation, with a high concentration of skyscrapers in Brickell, the city's central business district. At its origins in the early 20th century, the neighborhood became known as "Millionaire's Row," after the construction of lavish mansions along Brickell Avenue. Office towers, hotels and apartments started to replace the mansions by the 1970s. Today, Brickell has grown into one of the largest financial districts in the U.S. According to Yardi Matrix data, the top 10 tallest office buildings are in downtown Miami.
10. 701 Brickell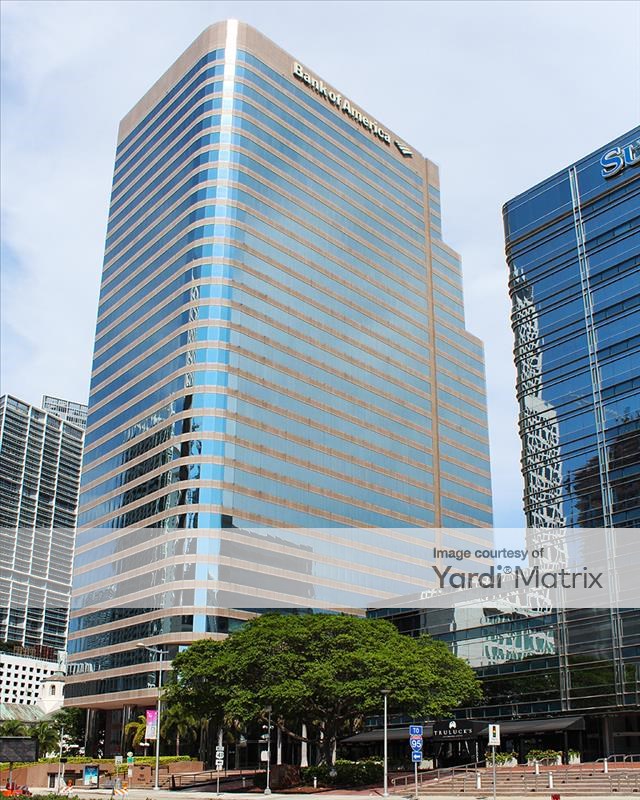 One of Miami's tallest office buildings, 701 Brickell opened in 1986 as the Lincoln Center in the Northern Brickell Financial District. Located at 701 Brickell Ave., the 33-story skyscraper encompasses 677,667 square feet of Class A office space and received LEED Gold certification in 2013. The current owner, TIAA, paid $172 million for the asset in 2002 when it acquired the building from MetLife. Tenants enjoy access to amenities including 24-hour security, fitness center, conference facilities, café, beauty salon, car-charging stations, full-service car wash and a seven-story covered parking garage. 701 Brickell offers unobstructed views of Biscayne Bay and direct access to downtown.
9. Citigroup Center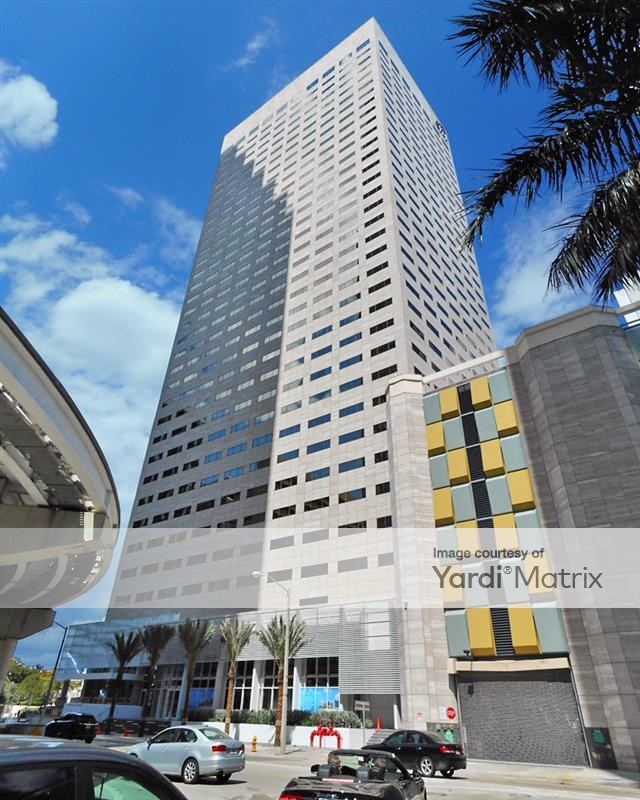 A symbol of early downtown, Citigroup Center (formerly known as Miami Center) was completed in 1983 and is immediately adjacent to Bayfront Park. Located at 201 S. Biscayne Blvd., the office tower totals 34 floors and 782,686 square feet. Owner Crocker Partners shelled out $262.5 million for the Class A+ asset in 2012 and unveiled plans for a $20 million makeover in 2015, after inking a lease renewal with anchor tenant Citigroup. Renovations are nearing completion and include a new entrance, improvements to the lobby and exterior plaza, modernization of the elevators and a glass curtain wall facade.
8. 1450 Brickell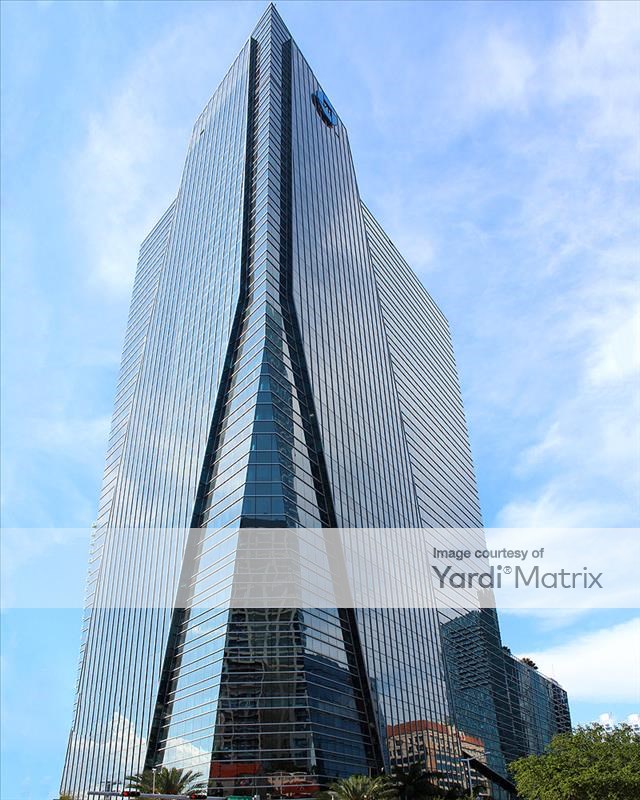 One of the newest office buildings on our list, 1450 Brickell opened in 2010 and incorporated the strongest curtainwall window system of any commercial building in the country at the time of completion. Rising 35 stories above Miami's central business district, the Class A+ property comprises 582,817 square feet and was developed by Rilea Group. Located at 1450 Brickell Ave., the property was the first office tower in downtown Miami to achieve LEED Gold status in the core and shell category. The asset features high-speed elevators, concierge services, valet parking and panoramic views of Biscayne Bay and downtown.
7. Brickell Arch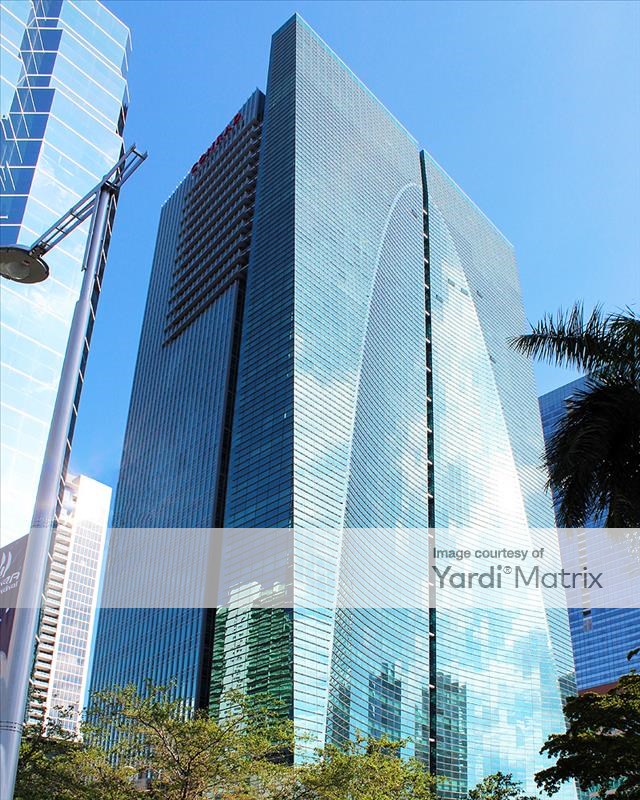 The 36-story mixed-use tower (formerly known as Espirito Santo Plaza) was designed by the architectural firm of Kohn Pedersen Fox Associates and completed in 2004. Located at 1395 Brickell Ave., the property features 268,024 square feet of Class A+ office space, 7,500 square feet of retail space and an attached 12-story parking garage. The Conrad Miami Hotel occupies 225,000 square feet, while the top 10 floors include 121 luxury condominium residences. Gaedeke Group purchased the 675,141-square-foot skyscraper in 2015 from the Espirito Santo Financial Group for $142 million.
6. One Biscayne Tower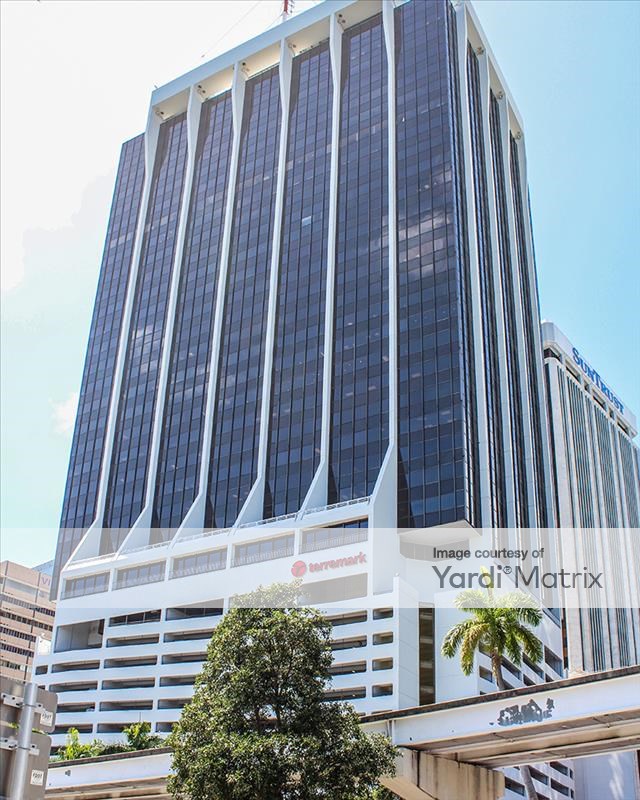 Located on the eastern edge of downtown Miami at 2 S. Biscayne Blvd., the 1,071,726-square-foot property was the tallest building in Miami when it was completed in 1972. Designed by the exiled Cuban architects Humberto P. Alonso, Pelayo G. Fraga & Associates and E.H. Gutierrez & Associates, the 39-floor One Biscayne Tower underwent cosmetic renovations in 1990 and 2014. The Class A building is LEED Gold certified and features amenities such as 24-hour security, fitness center, convenience store, full-service print shop, car wash and Federal Express/UPS/DHL drop.
5. Brickell World Plaza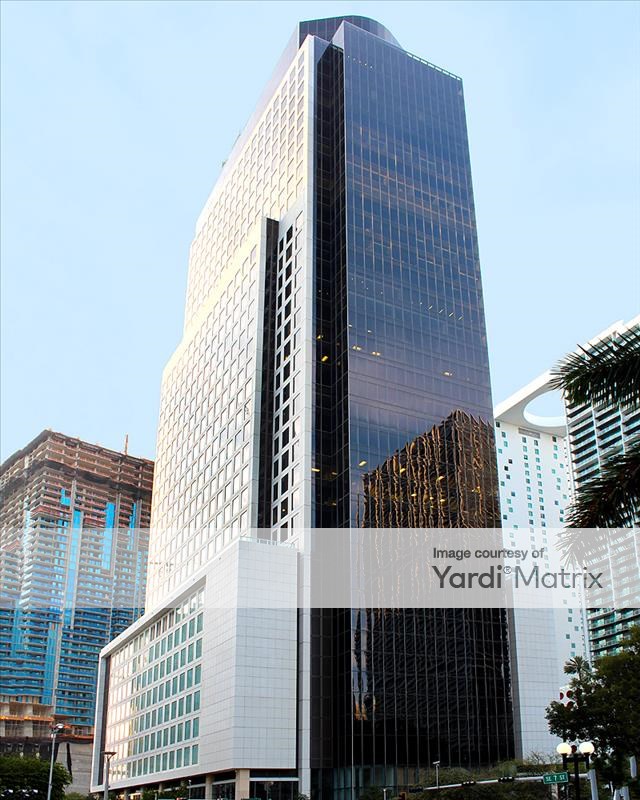 Also known as 600 Brickell, the LEED Platinum-certified office tower encompasses 614,905 square feet and a total of 40 floors at 600 Brickell Ave. Foram Group completed the property in 2011 after deciding to slow down construction during the recession. The developer wrapped up construction on Brickell World Plaza through one of the largest loans issued in Miami since the real estate crisis—a $130 million construction loan originated by Canyon Capital Real Estate Advisors. Tenants have access to a wide range of amenities, including a 30,000-square-foot, landscaped space, fitness center, conference facility, valet dry cleaners, on-site management and 11 decks of covered parking.
4. Miami Tower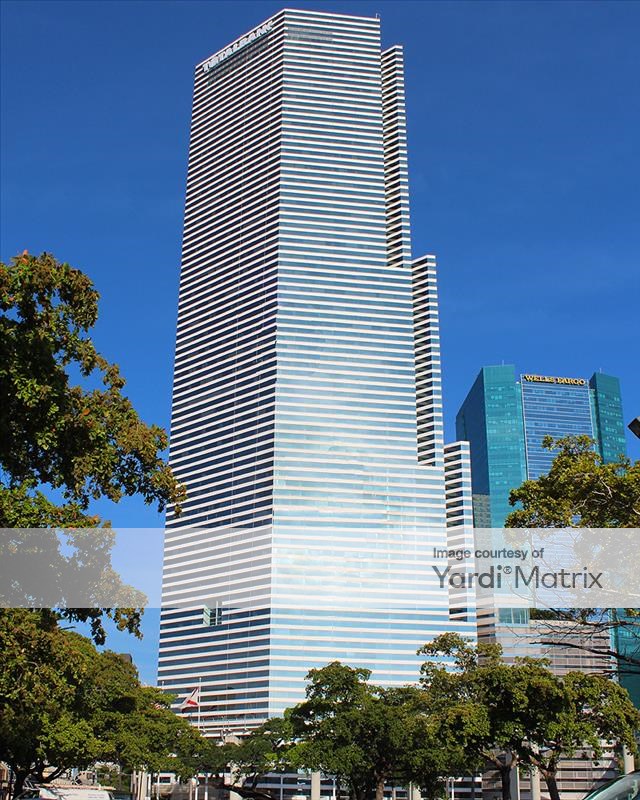 The 618,990-square-foot skyscraper was built for CenTrust Bank in 1987 and was rebranded as Miami Tower in 2010. The tower consists of two separate structures: a 10-story parking garage owned by the city and the 47-story office building built upon the air rights of the garage. In May 2016, the U.S. arm of Japanese conglomerate Sumitomo Corp. acquired the asset for $220 million from LaSalle Investment Management. The seller still owns the previously mentioned air rights. Situated at 100 SE 2nd St., Miami Tower is LEED Silver certified and features 24-hour security, card-key access, fitness center, 7,420-square-foot auditorium and a renovated sky lobby and terrace.
3.Wells Fargo Center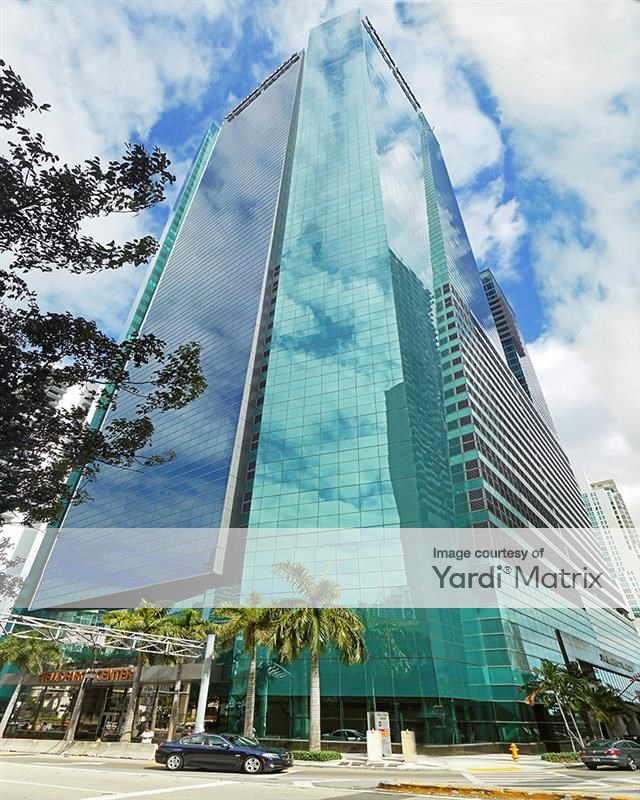 MetLife's 47-story Wells Fargo Center comprises 752,488 square feet of Class A+ office space completed in 2010 and is part of the Metropolitan Miami complex in the city's CBD. Located at 333 SE 2nd Ave., the office tower is LEED Gold certified and adjoins the five-star JW Marriott Marquis Hotel. The hotel's amenities are available to tenants of Wells Fargo Center. The property features a 20,000-square-foot conference center and ballroom facility, an entertainment complex on the 19th floor with virtual bowling and 3-D theatre room, fitness center, spa and valet parking. Wells Fargo Center is home to companies including Wells Fargo Bank, McDermott, Will & Emery, Greenberg, Traurig and Deloitte.
2. Southeast Financial Center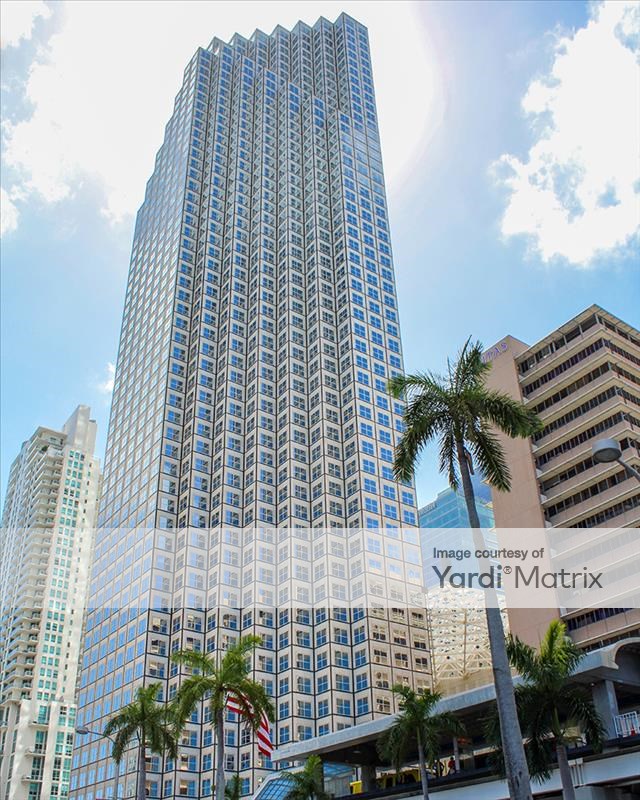 The second tallest office tower on our list topped off in 1983 and rises 55 stories on a 2.46-acre site in downtown Miami. The property consists of two structures: the office building and a 15-story parking annex located at 200 S. Biscayne Blvd. The tower and the annex are connected by an elevated covered walkway, and the project also features a 30,000-square-foot outdoor landscaped plaza. The LEED Gold-certified skyscraper changed hands in December 2016, when JP Morgan Asset Management sold it to a private investor for $516 million, making it one of the largest real estate transactions in South Florida history.
1. The Offices at the Four Seasons Tower Miami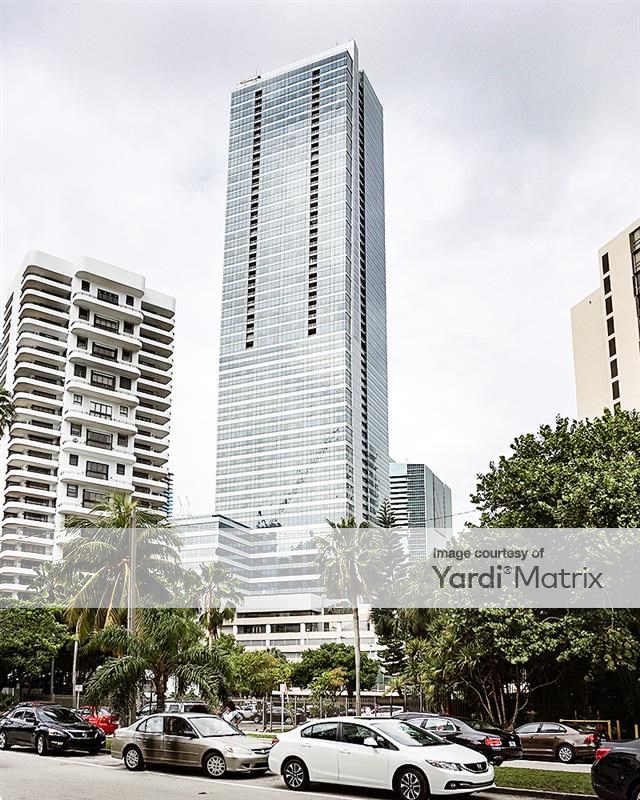 Currently, the tallest building in Miami is Millennium Partners' 70-story Four Seasons Tower located at 1441 Brickell Ave. The skyscraper features 250,000 square feet of Class A+ office space, a Four Seasons Hotel with 222 rooms and 84 condos, 186 residential units and 14,000 square feet of banquet space. Millennium developed the property in 2003 and sold a majority stake in the hotel component to Westbrook Partners in 2010. The tallest skyscraper currently under construction is the 85-story Panorama Tower in Brickell, a mixed-use property scheduled to open by the end of the year.
Images courtesy of Yardi Matrix