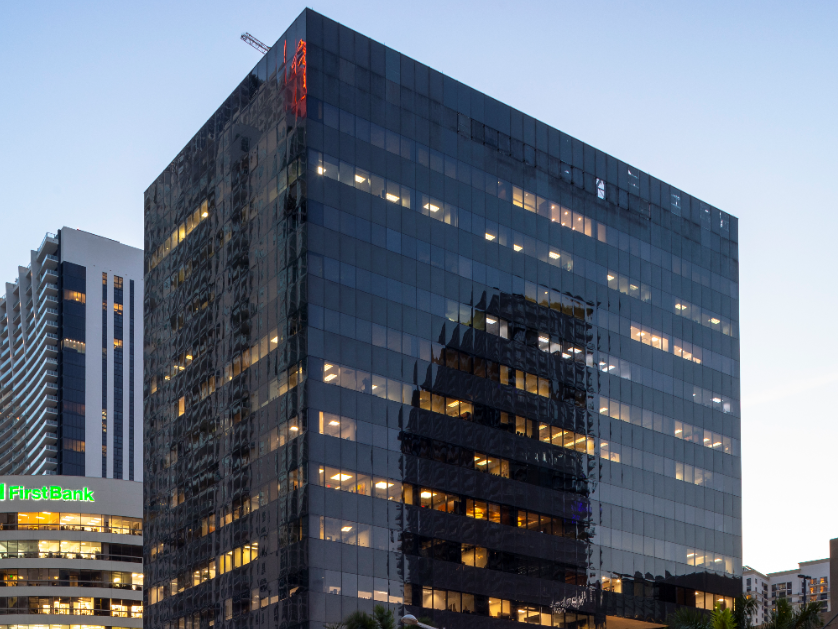 The Miami office tower known as 800 Brickell has come under new ownership. With the assistance of CBRE, RREEF America II, a fund of RREEF Property Trust, sold the 209,100-square-foot property to Gatsby Enterprises and Master Mind LLC in a deal valued, according to South Florida Business Journal, at $125.5 million.
"(The property was) highly pursued by a variety of different investment groups, including institutional, high net worth and offshore investors," Christian Lee, vice chairman with CBRE's Capital Markets, told Commercial Property Executive.
The 15-story building stands on a 2-acre site at the intersection of Eighth Street and Brickell Avenue, just across from a mass-transit station in the coveted Brickell submarket. In addition to Class A office space, the property, which first opened its doors in 1981, features 30,800 square feet of retail and an adjacent nine-story parking facility.
The building's 61,000-square-foot vacancy offers significant upside potential in the form of lease-up opportunity at current market rates. In a bid to capture the attention of prospective tenants, new owner Gatsby is planning to renovate the property via a program that will yield additional restaurants as well as exterior and interior upgrades.
José Lobón, executive vice president with CBRE Capital Markets, worked with Lee on the sale of 800 Brickell, and Colliers' Steven Hurwitz and Douglas Okun joined the team in marketing the asset. Darryl Kaplan of Darryl R. Kaplan Co. stood in for the buyers. The property last changed hands in 2015, when RREEF purchased it for $111.6 million.
Sales Momentum in Magic City
The investment sales market in Miami is thriving, buoyed by buyers' attraction to rising rental rates and balanced supply and demand, according to a second quarter 2019 report by CBRE. Miami joins New York, Houston and Chicago on the list of major markets that have overperformed in commercial real estate.
"There is more demand than supply of product, which is probably not too different from the rest of the country," Lee said. "What is unique here is that we have tremendous interest from South American investors, in addition to the same investment capital pursuing deals on other major MSAs around the country."
Office investment sales in metropolitan Miami totaled $306.5 million in the second quarter and involved deals large and small. Ada Valdivia acquired The 2500 Building, a 97,400-square-foot property in Doral, for just over $12 million, and CGI Merchant Group purchased the 162,300-square-foot 550 Biltmore in Coral Gables for $54 million. On the higher end of the sales spectrum, Shorenstein Properties bought the 285,000-square-foot Two MiamiCentral in downtown Miami for $159.4 million.