By Ioana Neamt, Associate Editor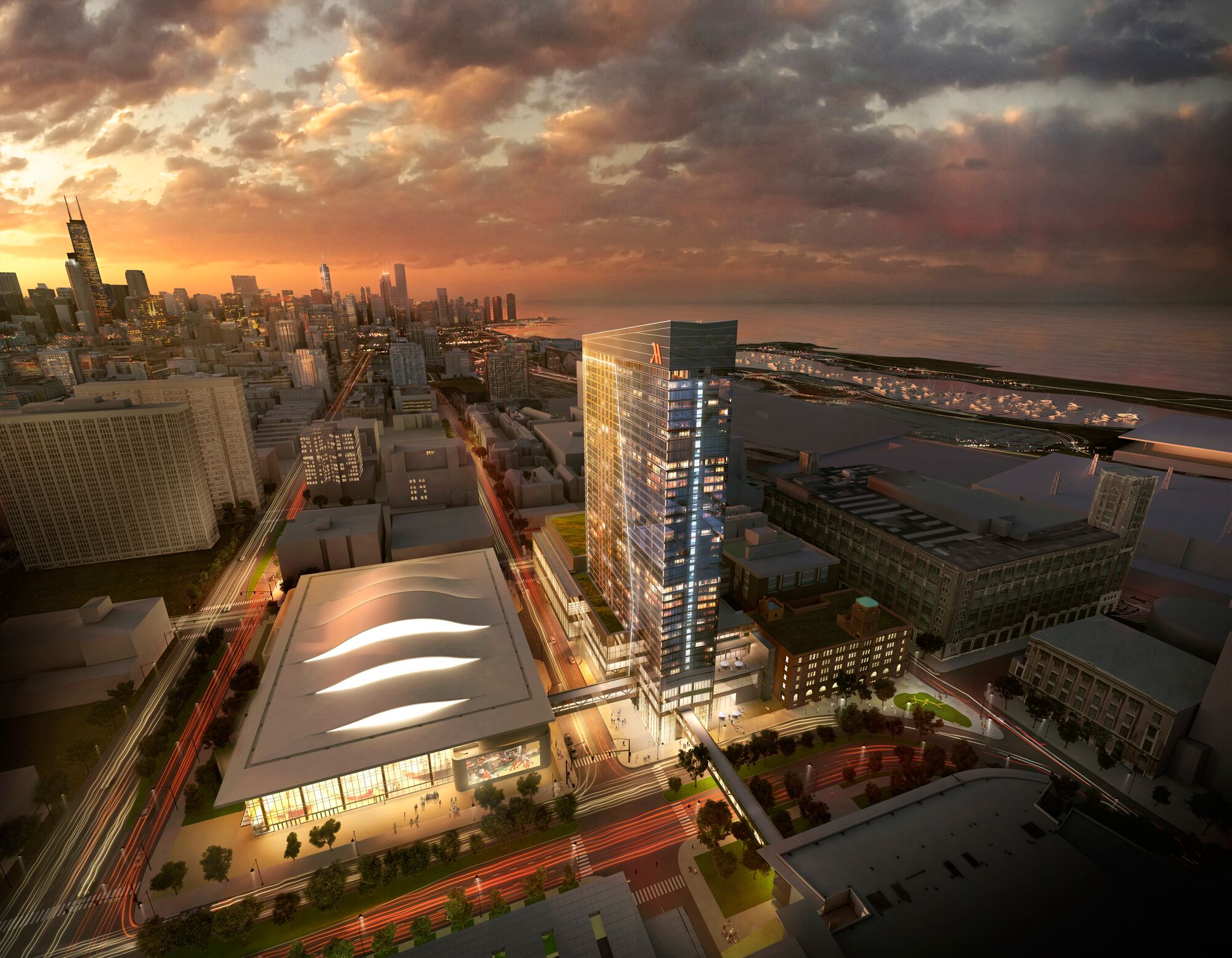 Mayor Rahm Emanuel, together with Metropolitan Pier and Exposition Authority (MPEA) and DePaul University officials celebrated the formal groundbreaking of the 10,000-seat McCormick Place Event Center in Chicago's Near-South Side.
The result of a public-private partnership between the MPEA and DePaul University, the $164 million event center—also known as DePaul Arena—was first announced in 2013 and is expected to take about 22 months to complete. The center will have the capacity to host a variety of events, from concerts and graduation ceremonies to conventions and trade shows. DePaul Arena will also serve as the home court for the university's women's and men's basketball teams.
The new event center is an integral part of the $841 million McCormick Place Entertainment District, which will also include the existing 1,258-key Hyatt McCormick Place and a new Marriott Marquis hotel currently under construction. Chicago's Entertainment District is an initiative meant to revitalize the area around the 55-year-old McCormick Place Convention Center, the largest in North America.
In December 2014, MPEA awarded the contract for the development of the hotel and event center to Prairie District 3 Partners, as previously reported by Commercial Property Executive. The design/build team for the project includes Clark Construction Group Chicago, Bulley & Andrews LLC, Goettsch Partners, Moody Nolan, Old Veteran Construction, and McKissack & McKissack Midwest. Pelli Clarke Pelli handles the project's design and architecture.
"The McCormick Place Event Center is an entertainment and cultural anchor for development connecting the South Loop commercial corridor to the expanding Bronzeville neighborhood," said Third Ward Alderman Pat Dowell. "Not only will this development ensure that Chicago remains a prime destination for tourism and convention business, but it continues the positive growth the Third Ward's Near-South Side communities have experienced since the end of the national recession."
Renderings via Mayor Rahm Emanuel's Press Office