By Keith Loria, Contributing Editor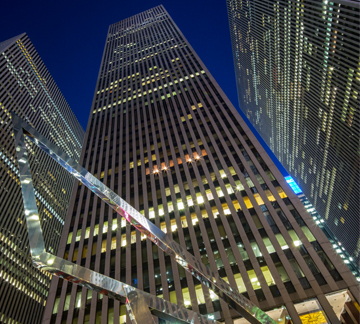 The Rockefeller Group has completed an 187,000-square-foot lease with Mayer Brown L.L.P. at 1221 Avenue of the Americas, a 50-story office tower anchoring the western border of Rockefeller Center between West 48th and West 49th streets.
"It's a vote of confidence for Midtown and Avenue of the Americas in particular, which has the largest inventory of Class A office space of any submarket in Manhattan," a spokesperson for The Rockefeller Group told Commercial Property Executive. "For that reason, Sixth Avenue has long been home to major financial services firms, and the pullback in that sector over the past few years has created an opportunity for tenants in other industries—like law, media and technology—to step in and access this space for the first time."
A leading global legal services firm with a presence throughout the Americas, Europe and Asia, Mayer Brown signed a long-term lease for the entire 11th through 14th floors of the iconic building. The firm, with more than 200 lawyers in its New York office, will relocate to the building in late 2014.
"We are thrilled with our impending move to 1221 Avenue of the Americas," Richard Spehr, partner-in-charge of Mayer Brown's New York office, said in a company release. "Our new space in this premier building will be designed to serve the needs of our global clients for years to come."
The Class A building totals approximately 2.5 million square feet, and is among the largest buildings in Manhattan to achieve LEED-EB certification by the U.S. Green Building Council. It is distinguished by its large, efficient floor plates and its expansive open-air plazas that surround the building on all four sides.
The building is one of four that were developed in the expansion of Rockefeller Center to the west side of Sixth Avenue. It has the truly central location with access to dining, hotels, arts and entertainment, and it also has in-building access to fitness centers, seven subway lines and hundreds of shops through the Rockefeller Center concourse.
The lease brings total new leases in the building to 282,648 square feet. New leases and renewals in the building have totaled 817,000 square feet since mid-2011. Approximately 400,000 square feet of office space is available in the building.
The most recent leases in the building were the result of two contiguous blocks of space becoming available for the first time in many years, both previously occupied by financial services firms.