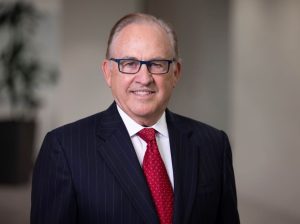 Matthews Real Estate Investment Services, one of the most powerful brokerage firms of 2021, has hired industry veteran Bob Osbrink as executive vice president & market leader for its Phoenix office, which was established last June.
In his role, Osbrink will coordinate all operations concerning market penetration, business development and sales force growth. In addition, he will continue to work as the director of the Center for Real Estate at California State University, a role he has been occupying since 2019.
Osbrink has more than 40 years of commercial real estate experience. He has previously held executive roles as co-CEO of Grubb & Ellis, a company where he served for 20 years, starting as a sales manager.
He has also worked at Marcus & Millichap, where he was vice president and regional manager of the firm's Orange County Division. During his four-year tenure, the division ranked as a top 10 brokerage within the firm and reached its highest revenue since its opening in 1981.
Other executive positions include a role of vice president at The Irvine Co. and executive vice president and regional manager at Cushman & Wakefield. Osbrink has also advised other prominent brokerage firms such as Newmark, SRS and the Yellowstone Group.
Last May, Matthews appointed Matt Fitzgerald as executive vice president & market leader for emerging markets. He works closely with Chairman & CEO Kyle Matthews and Executive Vice President & Managing Director David Harrington.