By Barbra Murray, Contributing Editor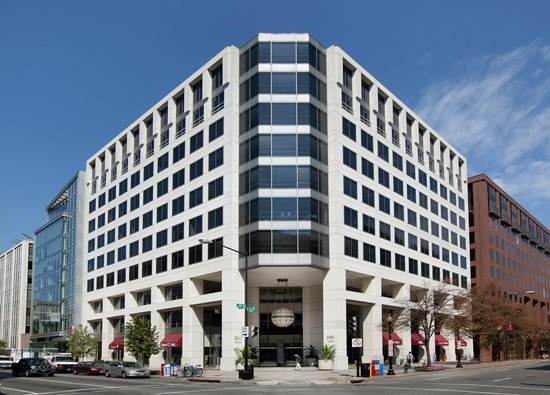 Five years after trading for $66 million, the Class A office building at 2001 L St., N.W., in Washington, D.C., has sold for nearly $62 million. Minshall Stewart Properties is now the new owner, having acquired the approximately 156,800-square-foot property from Equity L Street L.L.C., an entity of Dweck Properties.
Sited in the city's Golden Triangle area, 2001 L first opened its doors in 1985. Today the 10-story tower is home to a host of occupants, including Economic Consulting Services L.L.C., Institute of Electrical and Electronics Engineers, law firm Levine, Blaszak, Block, Boothby L.L.P. and The Peace Corps, which signed a 10-year lease for 23,000 square feet in 2003.
Transwestern orchestrated the disposition of 2001 on behalf of the seller.
Investors can't seem to get enough of Washington, D.C.'s office market. For the third year in a row, investors ranked the city as the top market for investment, according to the Urban Land Institute and PwC's 2012 trends report.  The year has gotten off to a busy start. Among the slew of recent transactions are Paramount Group Inc.'s $158 million acquisition of the 206,600-square-foot property at 2099 Pennsylvania Ave.; Rockrose Development Corp.'s $119.7 million purchase of the 224,700-square-foot building at 1776 Eye St.; and N.S.P. Ventures Corp.'s acquisition of 801 Ninth St., a 236,000-square-foot property occupied in its entirety by the U.S. Mint, for $147.5 million.
A report by services firm Cassidy Turley points to a rise in D.C.'s office sector for the year, as the area's office sales totaled $7.2 billion in 2011, an increase of 68 percent over 2010 and far exceeding the $5.4 billion historical average. The region saw 73 transactions completed in 2011, second in the nation only to Manhattan. "D.C. continues to be a strong market for investors," Bill Collins, an executive managing director with Cassidy Turley, said. "Over the next 12 to 24 months, the bulk of the sales activity will stay in core to core-plus properties."
*This story was updated at 10:32 a.m. EST on March 22, 2012, to reflect the spelling of Minshall Stewart Properties.