By Veronica Grecu, Associate Editor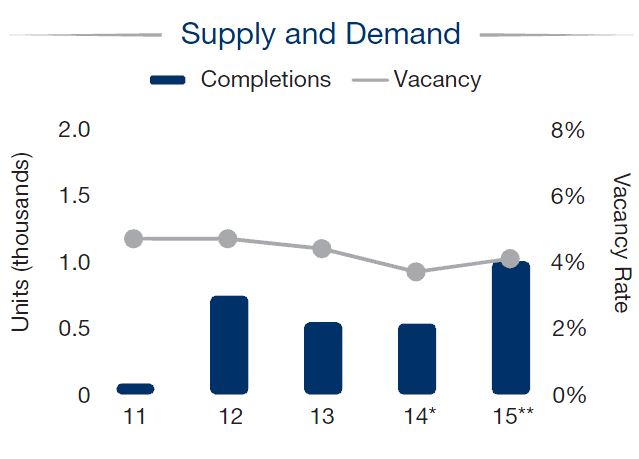 In 2014 Detroit emerged from being the largest bankrupt municipality in the U.S. into one of the nation's most promising cities, showing visible signs of recovery. Motor City is now on the right track to recovery, with a focus on attracting young professionals, tech start-ups and deep-pocketed investors.
Recent research data from Marcus & Millichap shows that the demand for housing units in Detroit and Metro area will boost occupancy through 2015, with construction estimated to reach a 10-year high. A slew of new development projects will generate significant job growth throughout the metro—such as the $650 million Red Wings Arena and Entertainment District which is currently under construction and is estimated to create around $5,500 construction jobs by 2017. M-1 Rail is another big construction project that will create a 3.3-mile streetcar line designed to improve downtown and midtown Detroit's transportation infrastructure and provide direct access to 125,000 jobs and 275,000 residents.
According to Marcus & Millichap, Detroit's improving financial look post-bankruptcy is expected to lure a wave of new investors in the area, especially in the midtown and downtown areas, where vacancy is still low and apartments are attracting young professionals and empty nesters seeking an urban lifestyle. Prospective buyers will set eyes on a great deal of redevelopment and adaptive reuse projects—such as the dormant Strathmore Hotel, which will be converted into 129 mixed-income apartments, or the renovated David Whitney Building, which now offers 108 apartments and an Aloft Hotel.
In 2015 developers are expected to deliver 1,000 new apartments, a 0.3 increase in inventory as compared to last year. This is the highest rate of completions registered in Detroit since 2015. Vacancy rates will push up 40 basis points, reaching 4.1, thanks to the rise in deliveries amid restrained job growth and an improving housing market. With vacancies inching upward, rent growth is estimated to grow at a much slower pace. Marcus & Millichap predicts that effective rents will reach $839 per month by gaining 1.1 percent as opposed to the 2.2 percent climb registered in 2014.
For more on Detroit, see the Spotlight on Detroit: "Detroit's Second Act" in the December 2015 issue of Commercial Property Executive. For even more insight, read reporter Leah Etling's personal account "On the Ground: Downtown Detroit Today" and view her slideshow of projects and streetscapes.
Charts courtesy of Marcus & Millichap