By Adrian Maties, Associate Editor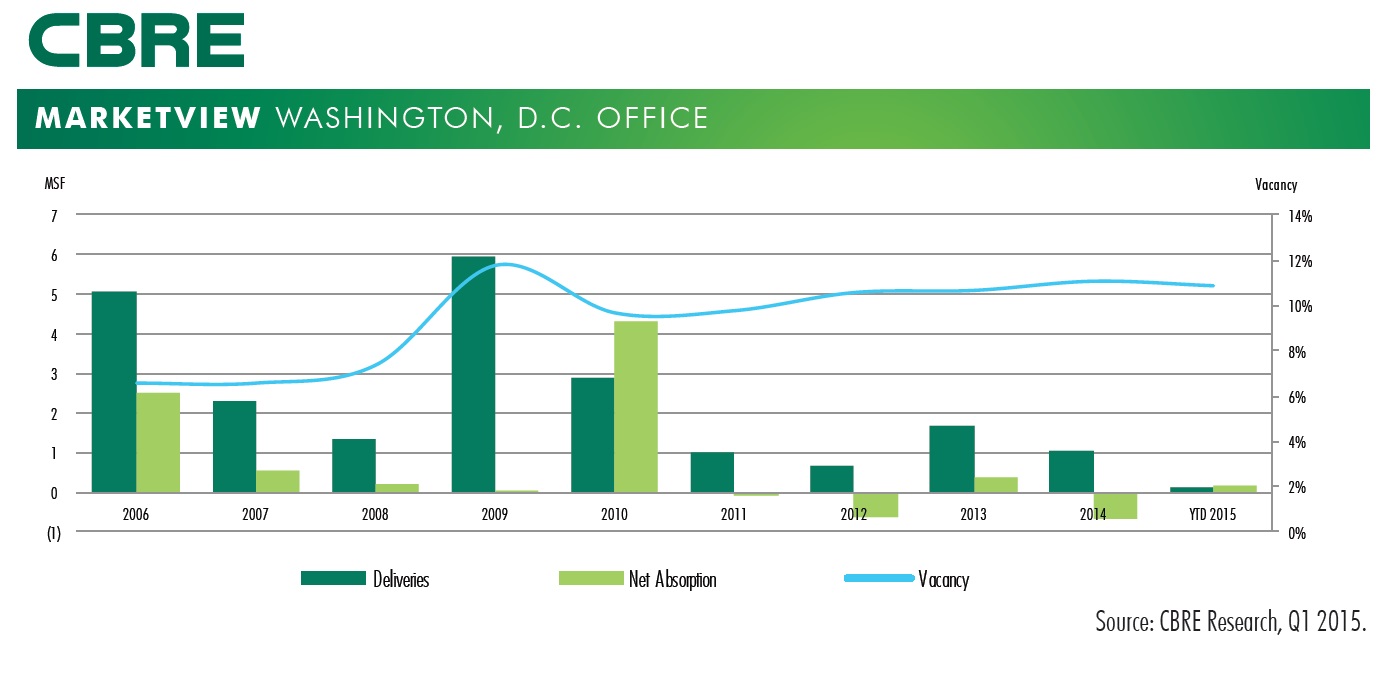 According to recent data collected by CBRE, the Washington, D.C. office market experienced the second consecutive quarter of positive net demand in Q1 2015. The region registered 164,000 square feet of positive net absorption, which caused a 0.2 percent drop in vacancy.
The positive absorption in the first quarter was a direct result of a surge in activity in the technology and nonprofit sectors. The two added about 200,000 square feet of positive absorption to the region. CBRE reported that the greatest demand was registered in the CBD and Southwest submarkets.
At the end of Q1 2015, the region's vacancy rate dropped to 10.9 percent. Notable transactions during this period include Nobilis' 160,000-square-foot lease at JBG's Summit I and II buildings in Reston, and Simpson Thacher & Bartlett's 15-year lease of 40,000 square feet of space at 900 G St.
CBRE also reported that, because of the lack of strong net demand drivers, rent growth is currently absent in the D.C. office market. At the end of the first quarter, the overall asking rent was $53.20 per square foot per year, which accounts for a decline of $0.15 per square foot from the previous quarter.
Last year, foreign capital investments in the Washington, D.C. metro area totaled almost $4 billion and this solid trend continued well into 2015. German investor Jamestown LP set a new record in the area with the $500 million acquisition of America's Square, in February. That transaction was followed by Mikeone EK's purchase of 2025 M St., N.W., in the D.C.'s Golden Triangle area, for $109 million. Columbia Property Trust Inc. has also added another office property to its portfolio, with the acquisition of 1881 Campus Commons Drive, in Reston, Corporate Office Properties Trust bought the 10-story Metro Place II, for approximately $83 million, and MRP Realty joined forces with UberOffices to buy the property at 1509 16th St., N.W.
Currently there are over two million square feet of office space under construction in the region, including 861,000 square feet of speculative development, with no preleasing. Demand for new, high quality office space remains strong in the region.
Charts courtesy of CBRE