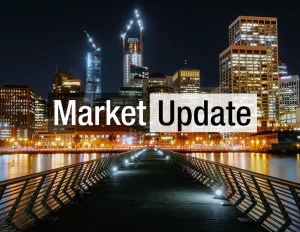 By the end of the second quarter of 2022, Manhattan's office vacancy reached 14.1 percent, according to CommercialEdge data. On a year-over-year basis, the metro's vacancy rate expanded by 330 basis points.
The largest U.S. office market has been one of the slowest to bounce back, but the first half of 2022 brought an uptick in leasing activity. Since the end of the first quarter, the borough's vacancy decreased by 30 basis points through June, signaling an increase in leasing during the second quarter of the year. The national average vacancy rate also decreased between April and June, shedding 50 basis points.
Most gateway cities followed the national trend and only three metros recorded vacancy increases: Miami (30 basis points), the Bay Area (20 basis points) and Seattle (70 basis points). Boston (9.7 percent), Miami (13.1 percent) and Los Angeles (13.0 percent) bore lower rates than Manhattan.
Prices down, leasing up
In June, the NYC borough's average listing rate hit $72.90, representing a 12.3 percent decrease year-over-year—the largest drop across all U.S. markets. In March, the full-service equivalent average stood at $74.20. Other primary markets with high rates included San Francisco ($62.60), the Bay Area ($56.50) and Miami ($47.10).
Manhattan office vacancy fell in the second quarter of the year, while landlords completed several large leases:
Macquarie Group committed to 221,764 square feet at Brookfield Properties' 660 Fifth Ave. in the Plaza District;
HSBC signed a 20-year, 265,000-square-foot lease at The Spiral, Tishman Speyer's anticipated supertall;
NewYork-Presbyterian also committed to The Spiral, with a 20-year, 75,000-square-foot lease;
In June, Clifford Chance signed up for 144,000 square feet at Brookfield Properties' Two Manhattan West, in Chelsea.
CommercialEdge covers 8M+ property records in the United States. View the latest CommercialEdge national monthly office report here.