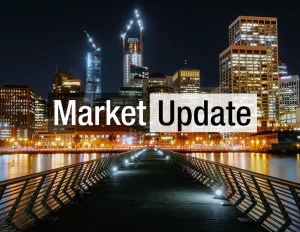 In the second quarter of 2022, Manhattan's deal volume totaled $1.83 billion, according to CommercialEdge data. The total value of office product that changed hands between April and June exceeded first-quarter figures, which reached $1.02 billion.
Year-to-date through June, office sales in Manhattan added up to a total of $2.85 billion, the largest volume across all U.S. markets, followed by the Bay Area ($2.64 billion) and Boston ($2.53 billion). Seattle ($2.33 billion) and Los Angeles ($2.3 billion) also exceeded the $2 billion mark. At the same point last year, year-to-date sales in Manhattan reached $2.12 billion. The share of office sales across gateway cities has fallen from 41.5 percent in 2018 to 32.0 percent in 2022.
Although quarter-over-quarter deal volume was up in Manhattan, the average price per square foot decreased from $921 in the first quarter to $880 by the end of June. In mid-2021, the metro's average price clocked in at $1,249, marking a roughly 70 percent decrease year-over-year.
Biggest Manhattan deals in Q2
Oxford Properties scored the biggest sales price for a building, when it pocketed $445 million for 450 Park Ave. in the Plaza District. Announced in April, SL Green Realty Corp. closed the purchase of the 337,000-square-foot, Class A+ property for roughly $1,350 per square foot in June. SL Green teamed up with unidentified institutional investors from South Korea and Israel to make the purchase. The seller bought the 33-story asset in 2014 for $545.8 million.
The second largest deal of the quarter was the sale of 475 Fifth Ave., a 275,738-square-foot Class A property in Murray Hill. RFR Realty picked up the 24-story, LEED Silver-certified asset from a partnership between Nuveen Real Estate and Norges Bank Investment Management. The $1,055-per-square-foot deal closed with the help of a $180 million acquisition loan provided by JPMorgan Chase.
CommercialEdge covers 8M+ property records in the United States. View the latest CommercialEdge national monthly office report here.