By Alexandra Pacurar, Associate Editor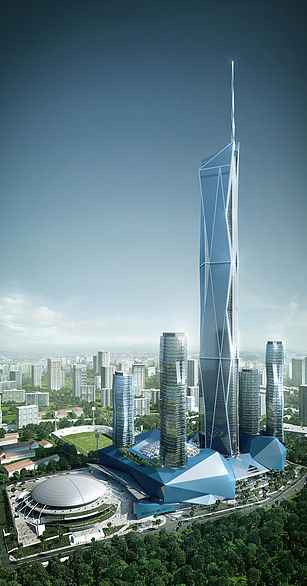 Kuala Lumpur, Malaysia—Turner Construction Co. announced the public launch of Malaysia's tallest tower, a mixed-used development initially known as Warisan Merdeka, but later renamed by the country's Prime Minister—who attended the launch event—into Merdeka PNB118.
The 118-story tower is part of a 19-acre, mixed-use complex, slated for completion in 2020. Merdeka PNB118 will become the global headquarters for developer Permodalan Nasional Berhad which will occupy 60 floors of the building. The sky scraper will have 23 levels of rentable commercial space and a 236-key, 18-story luxury hotel with multiple sky lobbies and observation decks.
"The Merdeka PNB118 tower project builds on our experience managing landmark projects in Southeast Asia, as well as our experience delivering technically sophisticated, mega-tall structures in growing cities around the world", said Peter Ramstedt, Turner's Project Director.
The project is seeking several sustainability certifications including LEED Platinum, the Malaysian Green Building Index, the Malaysian GreenRE program, in addition to MSC Malaysia Cybercentre status.
The high-rise, designed by Australia-based firm Fender Katsalidis Architects, is set to become the world's fifth tallest building. "The Warisan Merdeka development will be an iconic landmark, adding to Kuala Lumpur's attractiveness as an investment and tourist destination and helping to define a new Malaysia", Ramstedt said.
Turner, a North America-based subsidiary of HOCHTIEF, is the largest builder in the United States with an annual construction volume of $10 billion. The construction company is also behind large residential and commercial projects all over the world, including Miami, Seattle, Dubai and Hong Kong.
Image courtesy of Leslie E. Robertson Associates