By Barbra Murray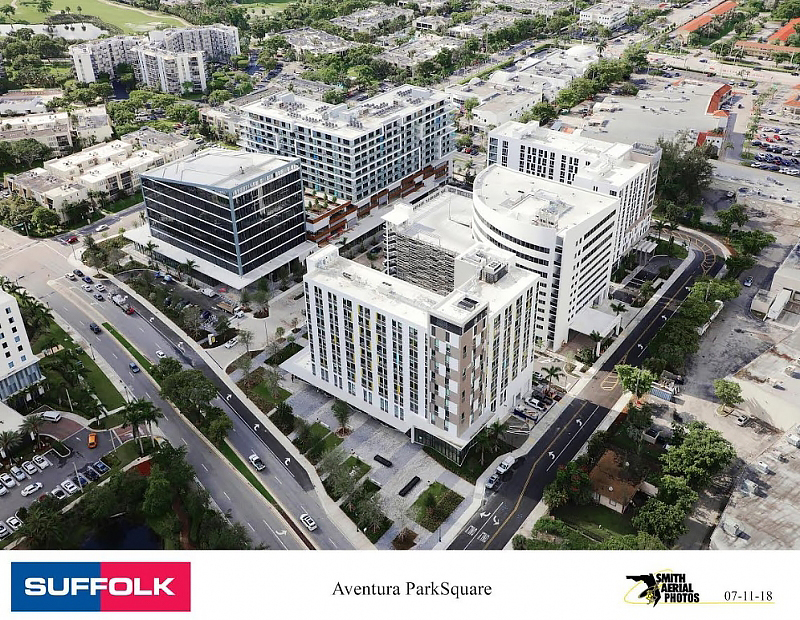 Aventura ParkSquare, a $300 million mixed-use destination totaling 1.2 million square feet in Aventura, Fla., has reached completion. Developer Integra Investments wrapped up the project following Miami-Dade County's granting of the temporary certificate of occupancy for the last two structures at the five-building property.
Integra broke ground on ParkSquare, sited at the intersection of 2900 Waterways Blvd. and 207th St., in 2016, with Suffolk Construction aboard as general contractor. Occupying 7.5 acres roughly 20 miles north of Miami, ParkSquare is an authentic yet atypical live-work-play development. ParkSquare has a central theme: wellness. "Many developers use different 'gimmicks' to make their projects unique. We wanted to come up with a way that our project would not only be unique, but timeless and something that everyone appreciates. Wellness is that," Victor Ballestas, principal with Integra Investments, told Commercial Property Executive.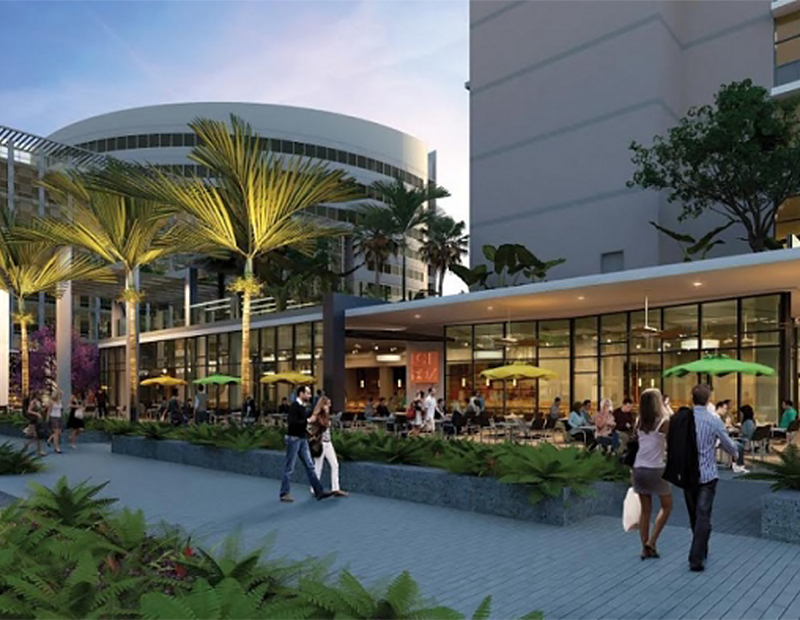 Highlighting the wellness theme at the Zyscovich Architects-designed ParkSquare is a 45,000-square-foot medical center, as well as components promoting walkability, including uncommonly wide sidewalks shielded by tree canopies. And keeping with its designation as a 24/7 development, the health-centric lifestyle community features a residential condominium structure with 131 luxury units, and a nine-story office condominium tower with 100,000 square feet of Class A office space. The TCO for the two buildings was the last to be obtained at the property, which also encompasses 55,000 square feet of ground-level retail and restaurant offerings centered on a two-block interior main street. A 10-story luxury senior living tower and a 207-key Starwood Aloft Hotel complete the development.
"Real mixed-use is always a challenge because of the different components and timing of such," Ballestas noted. "We were lucky here that timing lined up and allowed us to build all the components at once."
Going, going, gone
If numbers are any indication, Aventura ParkSquare is proving a successful endeavor already. One-hundred percent of the office segment has been claimed and 80 percent of the project's residential condominiums have been sold.
Elaborating on the robust sales activity at Aventura Square, Ballestas said, "The demand is driven by strong demographics in Aventura and lack of supply in the last 10 years."