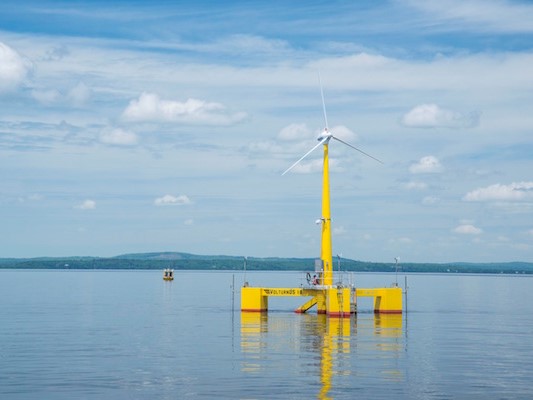 Governor Janet Mills has signed legislation directing the Public Utilities Commission to approve the power purchase agreement for the output from New England Maine Aqua Ventus, a pilot offshore wind project. Successful demonstration of the technology has the potential to lead to a 500-megawatt scale project placed in U.S. federal waters.
The project is a 12-megawatt of floating offshore wind pilot developed by Cianbro Corp., the University of Maine and DCNS. Maine Aqua Ventus is supported by nearly $40 million in grants from the U.S. Department of Energy and would be the state's first offshore wind farm.
---
Read Also: World's First Floating Offshore Wind Farm Begins Operations
---
This demonstration facility will deploy two 6-megawatt turbines on VolturnUS, a floating concrete semi-submersible hull designed by UMaine south of Monhegan Island, off the coast of Maine. Each floating turbine is held in position in the ocean by three marine mooring lines securely anchored to the seabed, with the electrical generation connected by subsea cable to the Maine power grid on shore.
The wind farm's components—turbine platforms and column segments—will be fabricated and assembled at an existing industrial facility adjacent to the Penobscot River in Brewer. Turbine components will be assembled on the hull in Searsport and subsequently towed to the UMaine Deepwater Offshore Wind Test Site at Monhegan Island.
Governor Mills also announced that the State of Maine has accepted the invitation from the Bureau of Ocean Energy Management to participate in a federally led Gulf of Maine Intergovernmental Regional Task Force on offshore wind with New Hampshire and Massachusetts. The Task Force will seek to identify potential opportunities for renewable energy leasing and development on the Outer Continental Shelf in the Gulf of Maine.
Furthermore, the Governor announced the creation of the Maine Offshore Wind Initiative, which will examine opportunities for job creation, supply chain and port development, as well as offshore wind's impact on Maine's future energy supply. The group will also explore how offshore wind siting might impact other users of the Gulf of Main, including commercial fishing and other marine industries.