By Keith Loria, Contributing Editor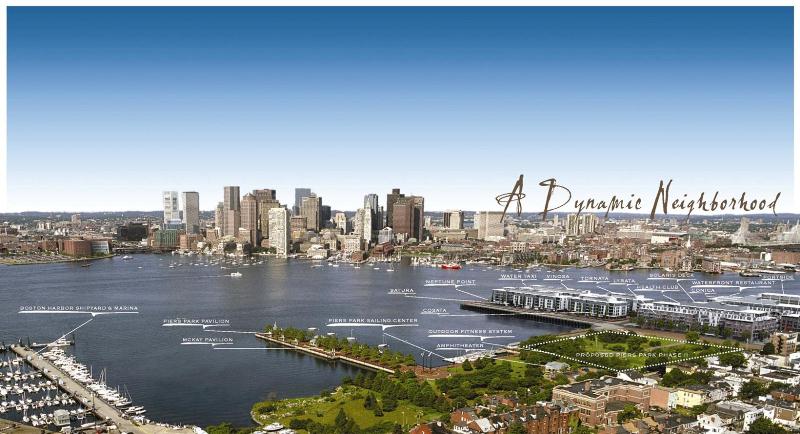 The Roseland subsidiary of the Mack-Cali Realty Corporation has commenced construction on Portside at Pier One, a 176-unit luxury apartment project on the East Boston waterfront.
The project is a joint venture with The Prudential Insurance Company and is supported by a construction loan commitment led by Citizens Bank with participation by Salem Five.
"We are delighted to see this much anticipated project get underway," said Mitchell E. Hersh, Mack-Cali's president and CEO. "The extraordinary public and residential aspects of this community, including an expanded marina and shipyard, world class waterfront park, and magnificent views of the downtown Boston skyline, will all combine to energize the East Boston Waterfront."
The five-story building will sit at the waterfront site adjacent to the pier at Marginal and Lewis streets and is part of the long-planned mixed-use community. The December 2012 project start was a by-product of a 10-year Roseland-led effort since being awarded its development designation by the Massachusetts Port Authority.
Portside will include 150 market-rate apartments and a 26‑apartment affordable component. Amenities will include a state-of-the-art fitness center, business center, theater room, controlled access garage parking and 12-hour concierge services.
The site is a two‑minute walk to the newly renovated Maverick Blue Line T-station, which is a four-minute train ride to Boston's financial district. The site is also situated adjacent to the award-winning Pier's Park and is just 10 minutes from Boston's Logan Airport.
Mack-Cali anticipates the project will cost around $67 million, with a projected initial stabilized unleveraged return on a pro forma basis of approximately 7.11 percent.
Roseland will oversee the leasing and management responsibilities for the property.
The overall development will include approximately 566 luxury apartments and approximately 70,000 ground-floor square feet for retail and public uses.