MAA Tapped to Design $1.3B Dallas Project
The 400-acre Grandscape is one of the largest mixed-use ventures currently underway in the United States. Merriman Anderson/Architects will take on construction responsibility, as well as the arrangement of related design and bidding phase services.
By Barbra Murray
The development of Grandscape, the 3.9 million-square-foot mixed-use project sprouting up in The Colony, Texas, takes a significant step forward. Developer Nebraska Furniture Mart, a subsidiary of Berkshire Hathaway, recently tapped Merriman Anderson/Architects to serve as designer and architect of record for the $1.3 billion, suburban Dallas/Fort Worth project.
The 400-acre project is one of the largest mixed-use ventures underway in the U.S. The site will ultimately feature retail, hospitality, entertainment and residential offerings. "All of us at Merriman view the Grandscape project as one that will enhance the community for decades to come," Jerry Merriman, president & founder of Dallas-based Merriman Anderson/Architects, told Commercial Property Executive.
As defined by the American Institute of Architecture, design development calls for the preparation of documents, which include drawings; construction details; specifications identifying materials and systems; and the list goes on. And as architect of record, MAA will take on responsibility for construction observation, as well as the preparation of construction documents and arrangement of related design and bidding phase services.
"I would define the magnitude of the project as a huge opportunity more than a challenge," Merriman said. "Our firm has always worked on large scale mixed-use developments, large master plans and significant corporate campuses, so we are well organized and well versed for this type of project." Both old and new assignments indicate the firm is equal to the task. Earlier in July, news emerged that the MAA had been chosen by Alterra Worldwide to design the redevelopment of the 520,000-square-foot Jefferson Arms landmark building in St. Louis. 
From VISION to REALITY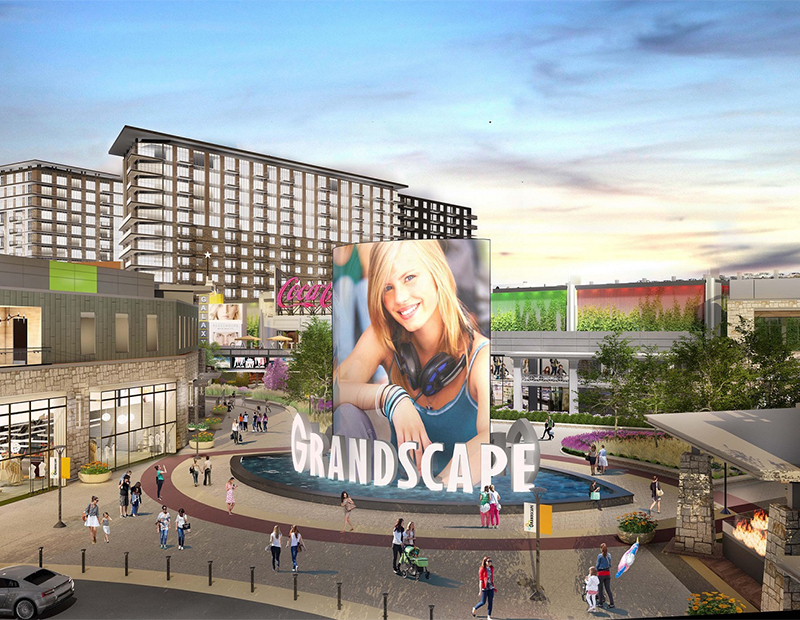 In March, ground broke on Grandscape's Lifestyle Center, a 90-acre shopping center that will sit across from the Nebraska Furniture Mart, which currently occupies space at the site as lead tenant. Nebraska Furniture Mart opened in 2015, featuring a 560,000-square-foot retail showroom and a 1.3 million square-foot distribution center.
The commitments just keep rolling in at Grandscape. Earlier this year, Andretti Indoor Karting and Games inked a deal to open a 110,000-square-foot facility at the veritable city-within-a-city, and luxury theatre operator Galaxy Theatres signed an 85,000-square-foot lease for a 16-screen venue. In 2016, Sporting Goods Store Scheels announced it will open a 300,000-square-foot store at the development.
MAA is joined on the Grandscape project by design architect HTH Architects and VCC Construction, which is acting as the general contractor. Grandscape will be developed in stages over a period of several years, with the initial phase on track to debut in the fourth quarter of 2018.