November 7, 2011
By Barbra Murray, Contributing Editor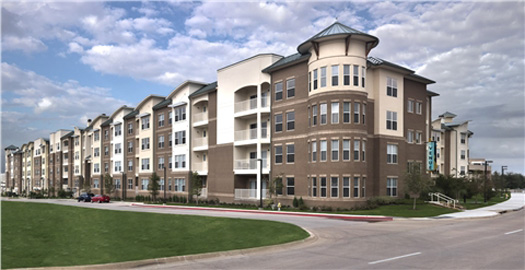 The Venue, a 285-residence luxury apartment community just outside of Dallas in the Telecom Corridor of Richardson, Tex., has come under new ownership, courtesy of a transaction orchestrated by Institutional Property Advisors, a brokerage division of Marcus & Millichap Real Estate Investment Services. IPA marketed the property on behalf of Legacy Partners Residential Development and The General Investment & Development Cos., and oversaw a bidding war from which AMLI Residential emerged victorious.
"The Venue was a hotly contested asset by institutions and private buyers alike because of its location in the Telecom Corridor, where it is surrounded by millions of square feet of Class A office space, across the street from the Richardson Performing Arts Center and only 100 yards from a DART light rail station, making it a wonderful transit-oriented development," Will Balthrope, a senior director with IPA, told Commercial Property Executive. "It is also located along Dallas's Central Expressway Corridor, which is the main artery into and out of the central business district. Subsequently, it has exposure to hundreds of thousands of cars per day."
Legacy developed The Venue in 2008. In addition to high-end residential units, the mid-rise complex features approximately 6,000 square feet of retail space. The property's occupancy level, presently in the 95 percent range, reflects the current state of the Dallas-area apartment market. The vacancy rate in the Metroplex is on track to decrease to a decade-low level of 5.5 percent by the end of this year, according to a third quarter report by Marcus & Millichap. Positive job growth numbers and the limited stable of new developments coming online have resulted in increasingly strong market performance.
Investors were attracted to The Venue like bees to honey. "Institutional demand for core, quality assets located in urban centers and especially at transit stops has been voracious over the past 12 months, with REITs, pension funds, quasi-institutional vehicles and private investors all pursuing these type of assets due to their high barrier-to-entry location and strong future rent growth potential," Balthrope said.
As per Dallas Central Appraisal District records, the 283,600-square-foot Venue has a current market value of just over $23.4 million. All parties involved in the transaction are remaining mum on the sale price; however, market sources have confirmed to CPE that The Venue traded above replacement cost.
"My team handles assets like this throughout the State of Texas and in different markets around the country, and on these core, quality assets at 'Main on Main' locations, prices are really being pushed today," Balthrope noted. "Prices have been pushed all year long."