By Barbra Murray, Contributing Editor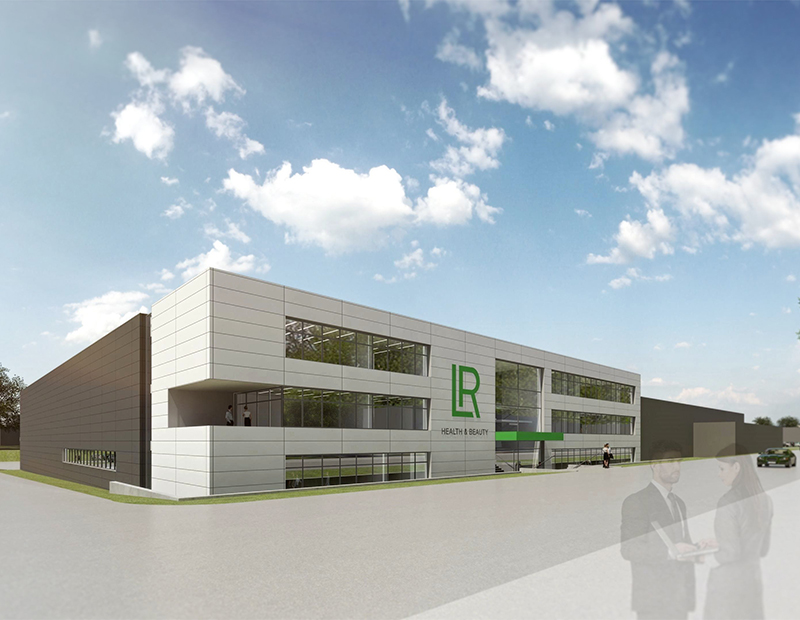 LR Health & Beauty is in growth mode, and the company's headquarters in Ahlen, Germany, is showing the signs. The producer and marketer of health and beauty products is in the midst of increasing the size of its home, sited 85 miles northwest of Düsseldorf, with the development of a 103,300-square-foot aloe vera production plant.
Give the people what they want. "We have made Aloe Vera popular in Germany and boast the most extensive know-how in this area. To meet the increasing demand by our sales partners, we are expanding our production capacities in Ahlen," Dr. Thomas Stoffmehl, CEO of LR Health & Beauty, said in a prepared statement. In addition to state-of-the-art manufacturing space, the 36-foot-high industrial property, which will be docked to LR's existing logistics center, will feature a 131-foot skywalk allowing visitors the opportunity to view production in action. The project will also yield a new office and communication space totaling roughly 10,800 square feet.
LR is partnering with Theodor F. Leifeld Foundation, owner of the headquarters property, to bring the new facility to fruition, with LR contributing 45 percent of the project cost. Construction kicked off in February 2017 and if all goes as planned, the new aloe vera plant will be up and running in December of this year. 
Strong Industrial Demand in Deutschland
LR opted to grow in place at its home in Germany with a new build-to-suit space, instead of picking up and starting anew at a larger property, which might have been a challenge. Demand for space remains high in Germany, according to a second quarter 2017 report by commercial real estate services firm Cushman & Wakefield, with both owner occupiers and tenants seeking accommodations.
 "As a number of speculative construction projects have been completed or are ongoing, supply of modern space improved, however, not every individual large-area requirement can be fulfilled and the majority of take-up is still via pre-lets and building for owner occupation," per the report.
Image courtesy of Assmann Group and LR Health & Beauty