By Barbra Murray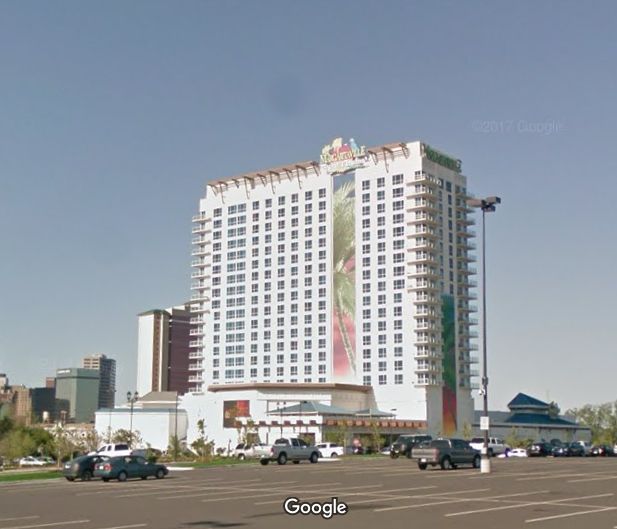 Margaritaville Resort Casino in Bossier City, La., will soon come under new ownership, courtesy of two planned transactions totaling $376 million. VICI Properties has agreed to acquire Margaritaville's land and real estate assets from Bossier Casino Venture LLC, while Penn National Gaming has committed to purchasing the property's operating assets.
"As the newest casino to the Bossier/Shreveport market, the property has shown exceptional performance and is now one of the market leaders in the region," Ed Pitoniak, CEO of VICI Properties, said in a prepared statement.
Margaritaville, designed by Cuningham Group Architecture, welcomed its first guests in 2013, offering a 395-key hotel, 26,500 square feet of casino space, a 1,000-seat theater and dining options on four acres of fee land. The gaming destination also encompasses 30 acres of leased land, a portion of which hosts 1,500 parking spaces. VICI, which just completed its spin-off from Entertainment Operating Co. in October 2017, will shell out roughly $261 million in cash for the land and real estate assets. On the experiential REIT's behalf, Goldman Sachs & Co. is acting as financial advisor, Kramer Levin Naftalis & Frankel LLP is acting as legal advisor and ICR LLC is acting as communications advisor in the transaction.
Penn National will pay $115 million, also in cash, for the operating assets in a transaction that will coincide with the company's signing of a triple-net lease with VICI. The 15-year agreement includes four five-year renewal options.
The two-part sale of Margaritaville is on track to reach completion in the second half of 2018, pending the green light from the Louisiana Gaming Control Board and the satisfaction of additional customary closing conditions.
Game change in the Pelican State
Louisiana's gaming regulations got a makeover of sorts in May 2018, as Governor John Bel Edwards signed SB 316 into law.
"SB 316 allows casinos to move onto land, within 1,200 feet of their current river locations, if they can provide an economic development justification. It also removes the square footage limitation and replaces it with a gaming position cap at each casino, which could allow for an expansion of space and gaming positions for those that move to dry land," Brent Pirosch, director of gaming consulting with CBRE's Global Gaming Group, told Commercial Property Executive.
"Louisiana's gaming market has shown some small improvement in the past year, so this change in the law could be the impetus for additional growth."
Image courtesy of Google Street View