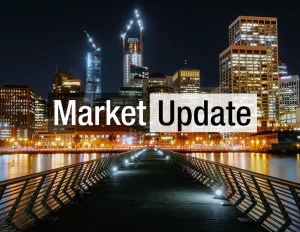 As of October, metro Los Angeles had 9.8 million square feet of office space under construction, representing 3.0 percent of total stock, CommercialEdge data shows. The pipeline grew by 29.4 percent year-over-year in the metro, but construction starts have cooled off since the previous month.
Office deliveries in metro Los Angeles totaled just over 2 million square feet this year through October, slightly less (by 200,000 square feet) than what was delivered in 2020 over the same period.
Several large projects continue in the city through health crisis-induced delays and other issues, with developers hoping to bring the new spaces online by the end of the year. Brookfield Properties' 1.8 million-square-foot redevelopment of California Market Center nears completion in the Central Business District—where an additional 1.2 million square feet is underway across other projects.
Culver City grew into a hotspot for new construction, such as Samitaur Constructs' 17-floor Wrapper Tower at 5790 W. Jefferson Blvd. Developers recently topped out the 180,000-square-foot creative office tower and hope to bring it online next year, the Urbanize L.A reported in October. In total, the Culver City submarket had more than 900,000 square feet of office space underway.
Construction starts through October this year totaled 1.7 million square feet across 13 properties, just under 2020's 1.8 million square feet recorded over the same period. Some of the largest projects that were added to the pipeline are creative offices—such as the 415,000-square-foot NBC Universal office underway in North Hollywood.
Despite the challenges the market currently faces, vacancy in the metro remained below the national average in September, and investor interest is still high as the third quarter accounted for nearly half of total investment volume this year.
CommercialEdge covers 8M+ property records in the United States. View the latest CommercialEdge national monthly office report here.