Los Angeles—Rental costs in Los Angeles are rising as a direct result of a strong economic recovery and an influx of young graduates seeking high-flying jobs have resulted in low vacancy rates, well below the national average. Analysts believe that this situation is unlikely to change within the next two years despite a boom in the construction of new apartments.
According to data collected by Yardi Matrix, Los Angeles apartments command an average rental of $2,083, while apartments in trendy post-2010 developments cost an average $3,113 to rent. A closer look at five of the biggest developments of 2015 clearly demonstrates the trends investors and developers are cashing in on in LA.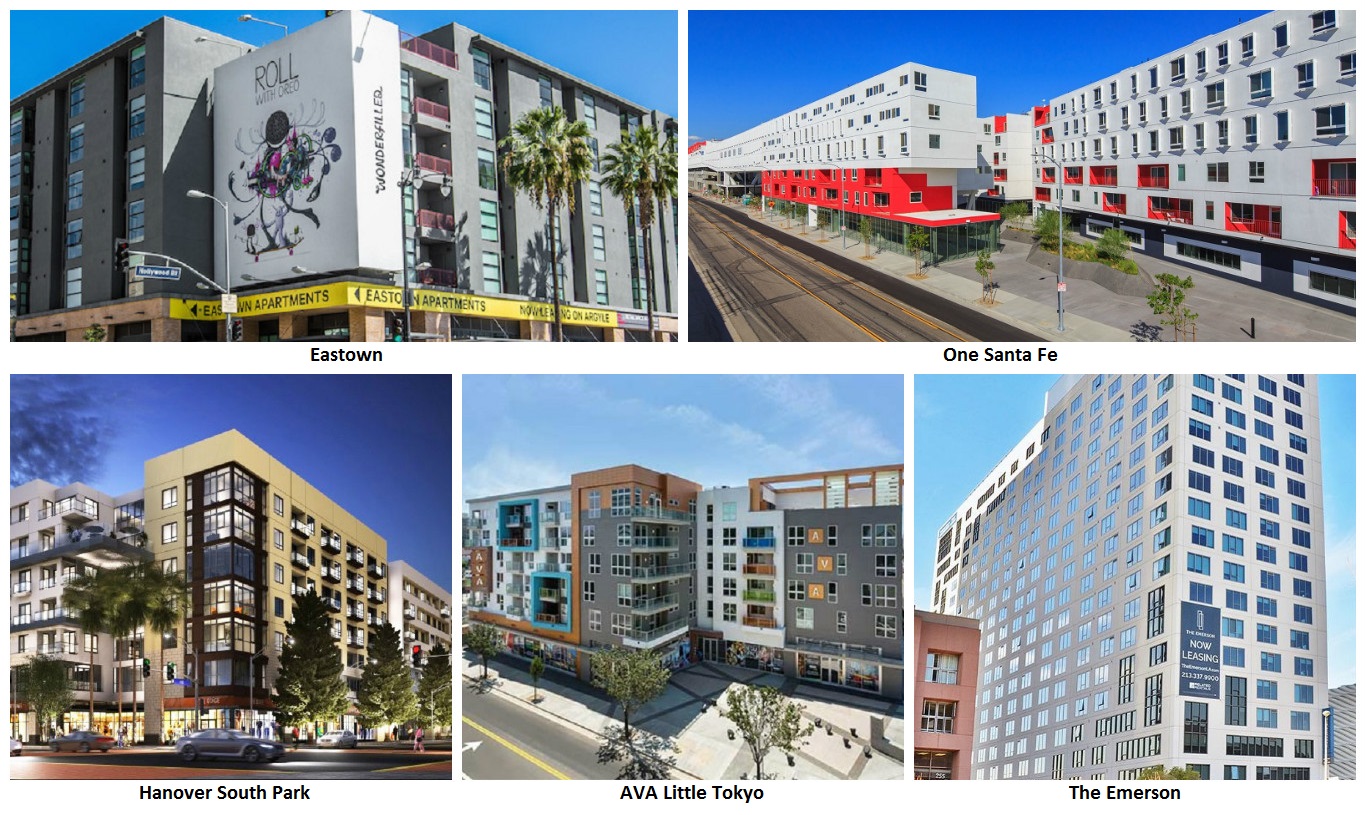 1. Eastown, 535 units
Set on Hollywood Blvd., this development by the DLJ Real Estate Capital/Clarett West joint venture features 535 rental units, mostly one-bedroom and studio apartments. Amenities include a communal lounge, swimming pool and tennis court, while apartments in this Green Building are fitted with energy-efficient appliances and large windows, reflecting the popularity of light and airy interiors that create an impression of space. (Image courtesy of Eastown Official Website)
2. One Santa Fe, 438 units
Cowley Real Estate Partners commissioned world-famous architect Michael Maltzan to design this 438-unit apartment complex. Most of the apartments reflect the young market driving the rising demand for LA apartments, with most units being one- or two-bedroom apartments. Today's consumer expects a wide range of amenities, and one Santa Fe meets the demand with modern conveniences such as a saltwater pool, fitness center, clubhouse and outdoor BBQ area. (Image courtesy of One Santa Fe Official Website)
3. Hanover South Park, 284 units
A trend we see across LA developments is the provision of ample parking, and this 284-unit development from Hanover Company typifies the trend with 478 parking spaces. Open-plan kitchens, high ceilings and large windows create an impression of space, and a range of amenities provide residents with facilities for work, relaxation, socializing and community activities. The clubhouse, gym and pool, it seems, are becoming standard amenities in high-end apartment developments. (Image courtesy of Hanover South Park Facebook Page)
4. AVA Little Tokyo, 280 units
Crisp modern design and a focus on two-bedroom apartments suitable for small families attract residents to this 280-unit development from Avalon Communities. Sliding doors and walls add flexibility to indoor spaces, and interesting design feature that may prove popular. Apart from an impressive range of amenities, AVA Little Tokyo has a smoke-free policy, energy-efficient appliances, and electric car-charging stations. (Image courtesy of Avalon Communities – AVA Little Tokyo Official Website)
5. The Emerson, 271 units
A glance at the exterior of this 271-unit building designed by Arquitectonica for Related Companies reminds us that high-end consumers expect cutting edge design. As for the amenities, they are comparable to those of a luxury resort, reflecting one of the points that many apartment tenants see as an advantage: hassle free leisure facilities on tap. However, the Emerson has a few surprises including a library. Most of the units are one- and two-bedroom apartments. (Image courtesy of The Emerson Facebook Page)
For more of 2015's largest apartment projects in Los Angeles, check out the complete list on the RENTCafé Blog.